History, Sales, Celebrations, and More.
The Origins of Memorial Day
Memorial Day is a holiday founded in America to honor soldiers who have died fighting for our country. It was created after the Civil War, which ended in 1865 and at the time had killed more Americans than any other war in U.S. History. The volume of death brought on by this war led to the establishment of National Cemeteries, which are still in use today.
After the war, women began a tradition of decorating the graves of fallen soldiers in flowers come springtime. This led to the establishment of Decoration Day, which we now know as Memorial Day. Women often used poppies to decorate the graves, which now represent an official symbol of remembrance.
On May 5, 1868, General John A. Logan called for a nationwide day of remembrance "May 30, 1868, is designated for the purpose of strewing with flowers, or otherwise decorating the graves of comrades who died in defense of their country during the late rebellion, and whose bodies now lie in almost every city, village and hamlet churchyard in the land," he stated.
The holiday has been celebrated on the 3rd Monday of May since 1971. Prior to 1970, it was celebrated formally on May 30 since its founding year of 1868. The date was changed when Memorial Day was deemed a federal holiday. The change allowed federal employees a three-day weekend to properly celebrate.
These traditions originated in the South, and though it is unclear where exactly in the South they first began, many states have stepped up to take credit. The U.S. Department of Veterans Affairs recognizes a list of 25 places that have claimed origins. One of the first printed recordings of Decoration day, however, was recorded in Warrenton, Virginia, on June 3, 1861. The decorations were for the grave of John Quincy Marr, who was the first soldier to die in the civil war.

Memorial Day for Kids
If you are struggling to explain Memorial Day to your young children, keep it simple. Memorial Day can be described simply as a day to honor the brave men and women who are no longer with us. Bringing your children to a Memorial Day parade or making DIY flags at home with red, white, and blue construction paper is a great way to celebrate. Turning your driveway into an American Flag with some chalk is another engaging option. Depending on where you are in the country, you could also take your children to a poppy field to pick flowers. Poppies grow in over thirty of America's fifty states.
Do not pick poppies if you are in California, as they are the state flower and are illegal to pick. Picking a poppy in the Golden State can result in a fine of $1000 or up to 6 months in jail.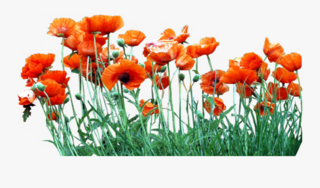 Memorial Day Today
Memorial Day has undergone a lot of changes since its inception, from a name change to a day change. Modern Americans have also, in many ways, given Memorial Day a slightly new meaning. It has somewhat turned into a celebration of life for the fallen soldiers. Without forgetting the meaning of the holiday, Americans look forward to Memorial Day for the extra time with friends and family, the barbeques, and the sales. There are red, white, and blue jello recipes to celebrate and even red, white, and blue drinks.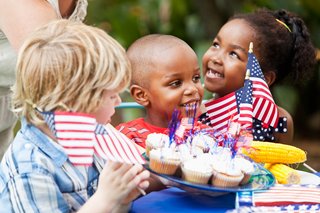 Traditional Ways to Celebrate Memorial Day
Though many do not decorate graves, visiting cemeteries is still a very traditional way to celebrate Memorial Day among Americans. When Memorial Day transitioned from being a holiday celebrated on a specific day to a holiday celebrated on a Monday, it also became one of America's ten highly anticipated long weekends. Which led to many places offering their residents proper celebrations.
Residents in cities and towns all over America decorate with flags, buy poppies, or attend parades. Many also make a point to thank a Veteran. A National Moment of Remembrance is held every Memorial Day at 3:00 PM for patriots to take a moment of silence and say a prayer for the fallen soldiers.
Washington D.C. has a special Memorial Day celebration. The celebration is organized by the American Veterans Center and the World War II Committee. Known as the National Memorial Day Parade, it attracts observers from all over the area and is held on the Friday before memorial day.
If you are looking for the biggest Memorial Day parade in the country, look no further than the Little Neck-Douglaston Parade in Little Neck-Douglaston, New York. This parade typically sees around ten thousand marching participants, with thousands more gathering in the streets to watch.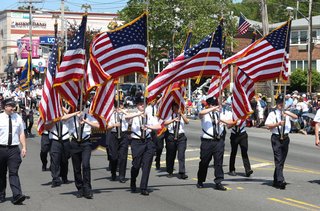 Modern Ways To Celebrate Memorial Day:
Support Veteran Owned Business
In the 21st-century, buying power is everything, so consider spending your Memorial Day shopping or eating at a Veteran owned business. Here is a guide to finding a Veteran Owned Business near you.
Mail A Care Package
Making care packages for soldiers overseas is a very respectable way to celebrate Memorial Day. Soldiers will love receiving a box of goodies, and you will feel good making them. This is also a great activity to do with kids. Things to include in a care package to a soldier: necessities like sunblock, deodorant, toothpaste, toothbrushes, soaps, and thick socks. Then fun stuff like snacks, non-melting candy, playing cards, or other games. Handwritten notes from children or artwork are also nice things to include.
Write A Letter To A Soldier
Bringing us to our next point, write a letter to a soldier. This could be a one-time letter to a stranger, or you could initiate a pen pal arrangement with a new friend. You could write a letter to someone you know and love while they are far away. A letter of gratitude to a soldier can mean the world to someone who is deployed. Plus, there's an unmatchable grounding feeling of comfort that comes from receiving a handwritten letter.
Donate To A Cause
If you were considering donating to a charity, Memorial Day is the perfect excuse. There are plenty of places to donate that directly benefit veterans and their families.
Your contributions go towards helping injured veterans recover.
Your donation to the United Service Organization will support over 5 Million Veterans and their families. The USO organization provides entertainment to over 250 locations worldwide, including Afghanistan, Djibouti, Kuwait, United Arab Emirates, Germany, Italy, Japan, Iraq, South Korea, and the United States.
Your donation at Homes For Our Troops will go towards building and rebuilding custom specially adapted homes for severely injured veterans. Allowing them to rebuild their lives. The organization has built over 316 homes to date.
Watch a Patriotic Movie
If you want to dedicate your whole day to recognize the legacy of Memorial Day, consider a Patriotic Movie.
1. Glory
An oldie but goodie with an incredible cast, Glory is specifically about the American Civil War and is an excellent movie to watch this Memorial Day. Featuring Matthew Broderick, Denzel Washington, Morgan Freeman, Andre Braugher, and Cary Elwes, Glory follows the tale of the first all African American Regiment.
2. American Sniper
A movie about a Navy Seal who shoots with extreme precision, American Sniper will have you rooting for the home team.
3. Gettysburg
Another war film, Gettysburg, tells the tale of one of the most significant events of the American Civil War, the Battle of Gettysburg.
Have a White Out Party
For the more fashion-forward reader, Memorial Day also marks the day that "wearing white" is acceptable again, after a long period of unacceptability starting on Labor day in September. It is common for celebrities and others who love fashion to throw a "White Out Party" where attendees are asked to wear all white on Memorial day. These events are trendy and common in Florida. Plus, while black is the traditional color of mourning in Europe and North America, other places around the globe like China, and Korea mourn death by wearing all white. So these events could in some ways be considered an ode to the dead.
Memorial Day Sales
No, we did not forget about Memorial Day Sales. Memorial Day brings some of the biggest sales of the year, resulting in some of the lowest prices of the year. Major box stores and small businesses alike partake in Memorial Day Sales. We have compiled a list of this year's best deals:
Overstock offers one of the weekend's largest blowout events, with thousands of items marked over 70 percent off. They are also offering free shipping site-wide.
Best Buy has a huge Memorial Day sale on everything from earbuds and air fryers to full-blown refrigerators.
Ulta has a major 50 percent off Memorial Day sale. While exclusions apply, a huge portion of the site is marked down for all of your beauty needs.
Ashley Furniture is offering a huge Memorial Day Sale with 30-50 percent off a ton of items, including patio furniture for that backyard BBQ you have been planning.
Lowes is offering Memorial day discounts on Yeti coolers and gardening tools. They even have dryers on their extensive markdown list.