Amazon Influencers – A New School of Online Influence
It was almost inevitable that Amazon would get into the live streaming game. With Amazon Live, the retail giants have a platform that has started to take off, unlike their previous efforts with the failed and short-lived "Amazon Unboxed".
Amazon Influencers now have a new way to monetize their efforts, as the retailers push their relationship with online celebrities, personalities, and Amazon A-Listers.

What is Amazon Live?
Firstly, let's dive into Amazon Live and what it actually looks like. The Live program is effectively an extension of the Influencer program, a way for content creators, online personalities, and celebrities to showcase products their followers might love. They can make a commission on items sold.
Live streaming is possible using the "Amazon Live Creator App" which lets influencers use their devices to stream video and audio, sort of like a cross between Twitch and QVC. Check out what these streams look like here.
Amazon Live gives you the option to view products using a carousel display and quickly add them to your cart. The influencers require approval so not everyone can instantly sign up and start trying to sell. Also, the team at Amazon works hard curating and promoting the very best product streams.
Influencers are having success by offering seasonal trends, and by showing people the merits of specific products. Videos stay on the platform after they have been broadcast live, so people can watch them back and still make their purchases even having missed the initial show.
For instance, check out this recent video with a focus on health and fitness, a huge trend as we go into any new year. A perfect example of how Amazon Live can give influencers a way to connect and share their expertise and passion.
Amazon Live Director Munira Rahemtulla recently spoke about the program at TechCrunch:
"We're focused on bringing customers fun and interactive shopping experiences, while also helping influencers grow their businesses on Amazon. Livestreaming enables creativity, connection, and inspiration, and the opportunities are endless – we're excited to introduce the Amazon Live Creator app to influencers and can't wait to see what they'll create for Amazon customers."

​​
Influencers Can Move Up The Ranks and Make Real Money
From Amazon home decor influencers to channels focusing on deals and offers, there are so many different approaches that influencers can take on Amazon Live. There is undeniably profit to be made.
Those signing up now are still switched on enough to be early adopters. Amazon programs that have grown significantly include the Associate's program, Prime, Prime Video, FBA…the list is huge, and the overall growth of Amazon since 2007 is eye-opening. Influencers have the chance to get in at the ground floor of this potentially huge program.
As you increase the level of your account with more streams and sales, you will be rewarded by Amazon. This is similar to how Amazon Associates used to work, with sellers who referred the most sales making bigger percentages of the overall sale.
Other benefits to leveling up include "additional placements for your Livestreams on Amazon. Leveling up can help you earn more commissions by being discovered in these additional placements."
The Amazon A-Listers can even enjoy the help of the brand in growing their viewers, as followers may be notified when you go live by using the Amazon mobile shopping app.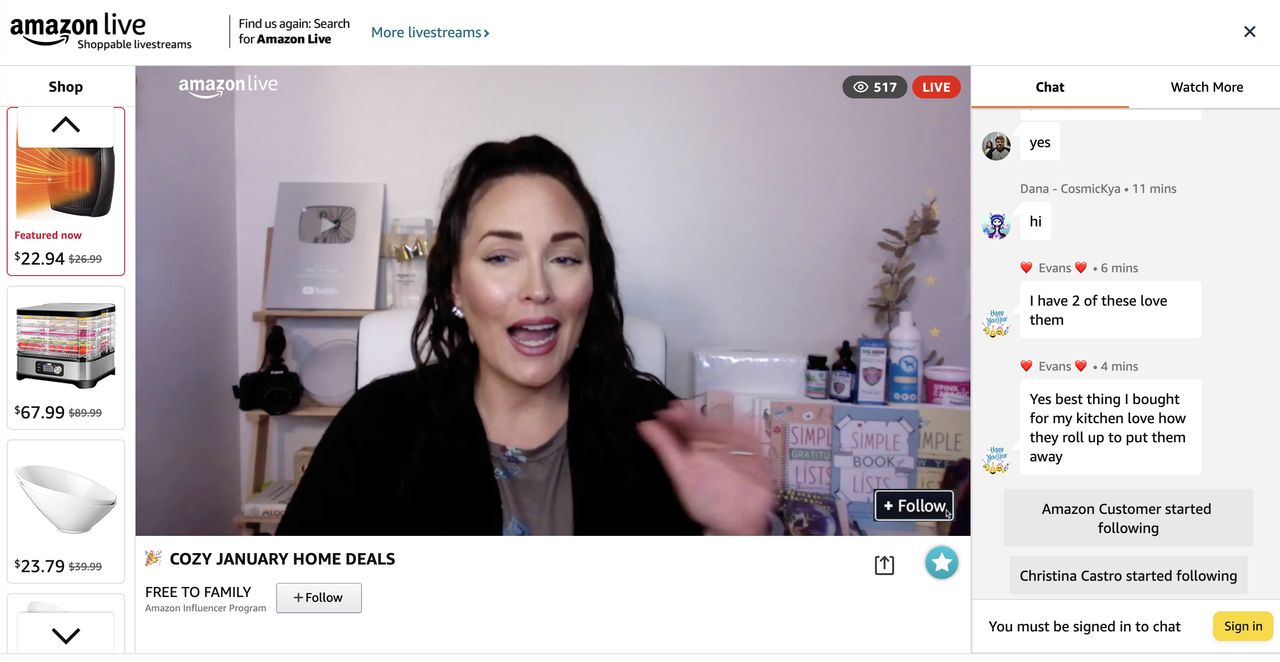 The Tier System
Amazon Live has a tier system for influencers. This is based on their experience and their impact.
-Rising Star
Rising Star lets you share links on a stream and earn commissions. This also lets them notify shoppers whenever they go live.
-Insider
The "Insider" rank lets influencers do the same, but also increases visibility by making streams eligible to appear on product pages, or be showcased on certain parts of the Amazon Live platform.
-Amazon A-Listers
Amazon A-List allows influencers all the benefits of the previous two tiers, but also gives access to special events and chances to make professional content with the in-house team, and even get to the homepage of Amazon Live, potentially accessing thousands of new viewers (and potential followers) in the process.
The system works for all parties. Influencers can make money out of the following they have amassed both on Amazon and elsewhere, Amazon and the manufacturers make more sales, and more content is created for product listings. This helps to build trust, and to make the product listing appear more professional to potential buyers. Being featured by an Influencer will become a badge of honor.
For product launches, expect the Influencer to become one of the most important cogs in the machine…
Connect With Influencers
Creating your first Amazon Live campaign takes just a few minutes using your Rebaid Seller account. Once signed up, click "Influencer Campaign" at the top of the seller dashboard.
You will be prompted to enter basic information about your product category and campaign goals. Once entered you will see all Amazon Live influencers matching your criteria. You can see the influencer's audience size and prices are displayed beneath their profile picture.
There are influencers for virtually every purpose, and retailers don't have to be global powerhouse brands in order to connect with them. This targeted method of promoting products means that a brand can launch a product with a lazer-focus on their audience and an affordable way to advertise.
This allows you to see the previous videos that the influencer has made, and you can check out the success other Amazon sellers have had through influencer marketing.
Summary – The Growth of Amazon Influencers
Selling on Amazon in return for a cut of the sale price is not a new concept. The company has let people make associate commissions since the 1990s, and their affiliate spend is truly massive, projected to exceed $8 billion in 2022.
With Amazon's Live Program, there is another method of connecting to an audience, and a neater and more efficient way to do this, rather than adding affiliate links on a live stream on another platform.
Amazon's entry into the streaming space was inevitable, and if the growth of the Associates program can be replicated, expect to see a lot more reviews and live streams showcasing the latest Amazon products.