Amazon Live has quickly emerged as a core advertising channel for Amazon sellers due to it's relatively low cost and high potential ROI. However just as sponsored product campaigns need to be well optimized to produce strong results, so too do Amazon Live campaigns. They key driver of success with Amazon Live features is the influencer. Selecting an influencer with high engagement, low relative cost and a track record of producing high quality content is necessary to achieve the best results.
Types of Amazon Live Influencers
Celebrity Influencers on Amazon Live
When many brand owners think about influencer marketing, names like Kim Kardashian or Justin Bieber come to mind. While these celebrities have the broadest reach, they often have low engagement (on a percentage basis) and come at the highest cost. This makes influencers in this category a poor choice for most brands. However large brands that have consistent success with influencer marketing and are looking to scale may find celebrity influencers to be a good option.
Fortunately Amazon has recruited many celebrity influencers to start producing content on Amazon Live. Names such as Jessie James Decker, Porsha Williams and Justin Long are just a few of the celebrities who actively stream product reviews. When booking these influencers expect high prices, longer turnaround times and fewer accommodations with special requests.

Lifestyle Influencers on Amazon Live
Lifestyle influencer encompass a broad range of influencers with follower counts in the thousands to hundreds of thousands. These influencers typically have higher engagement on a percentage basis as compared with celerity influencers, but with a lower overall reach. They also tend to have more narrow audience interest, such as Health and Beauty, Sports and Outdoors, Baby Care ect. For most small to medium size brands selling on Amazon, a lifestyle influencer with an audience interest closely matching your product or brand line will produce the best results. A successful campaign with a lifestyle influencer will generate more than one-off sales. This type of influencer is great for building a base of repeat customers due to their interest in your product category.
Booking a lifestyle influencer on Amazon Live typically cost between $250 and $1,000 and would commonly include a 3-5 minute length feature of your brands product. Livestreams tend to run for about 30 minutes on average and include a total of 10-12 products.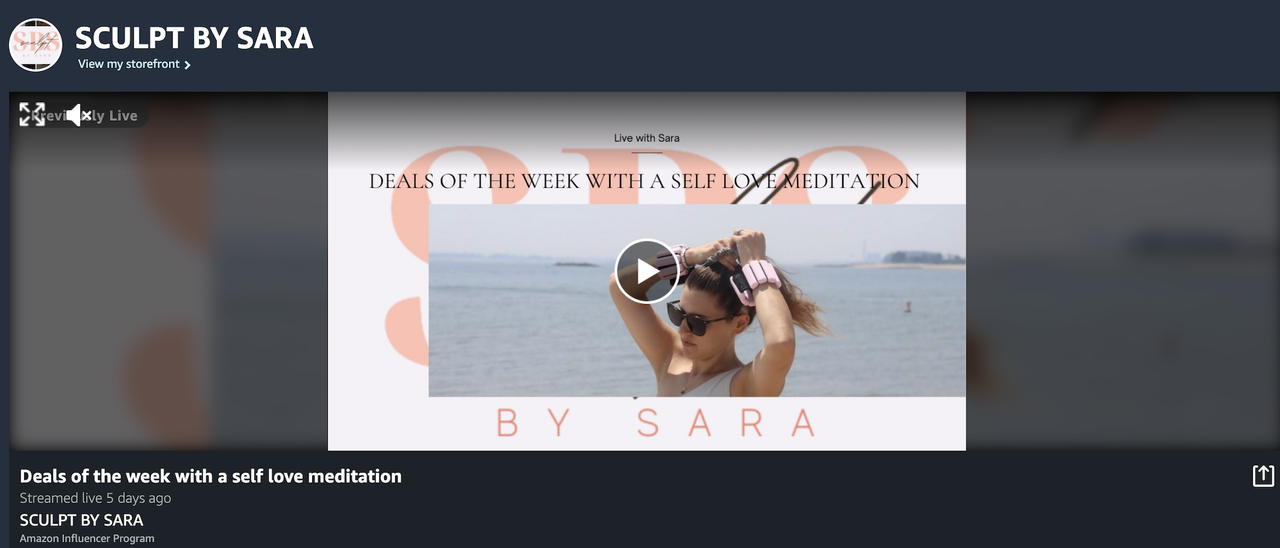 Deal Influencers on Amazon Live
As their name suggest, deal influencers feature special deals and promotions. They audiences are generally defined by a mixed demographic who are looking for great deals on interesting products. As a brand owner, these influencers can serve an important role in quickly driving sales when paired with a compelling discount offer. This increased sales velocity can help brands successfully launch new products or liquidate excess inventory.
On the other hand, few orders generated through placements with deal influencers will turn into repeat customers. They emphasis on temporary deals rather than the product itself means a sustained increase in sales velocity is unlikely to be achieved.
With that said, deal influencer are often the least expensive to book, with Amazon Live placements starting around $100. For brands interested in getting their product featured on Amazon Live with a minimal budget, this influencer type may be the best choice.
Connecting with Amazon Live Influencers
While influencers are often well adept at creating high quality content, they are not always recognized for their responsiveness or ease of communication. Amongst the most common reasons brands cite for unsuccessful influencer marketing campaigns is challenges with influencer communication. Fortunately websites like Rebaid.com make the process easy by leveraging existing relationships with influencers to streamline the process from beginning to end.
Rebaid.com has the largest network of Amazon Live influencers of any seller platform, ranging celebrities to smaller niche and deal influencers. Booking an Amazon Live campaign through Rebaid is quick and easy. Simply enter your product category and campaign goals. You will then see a list of all matching influencers that match your criteria. Choose the influencer that you think would be best for your brand and Submit to get the ball rolling.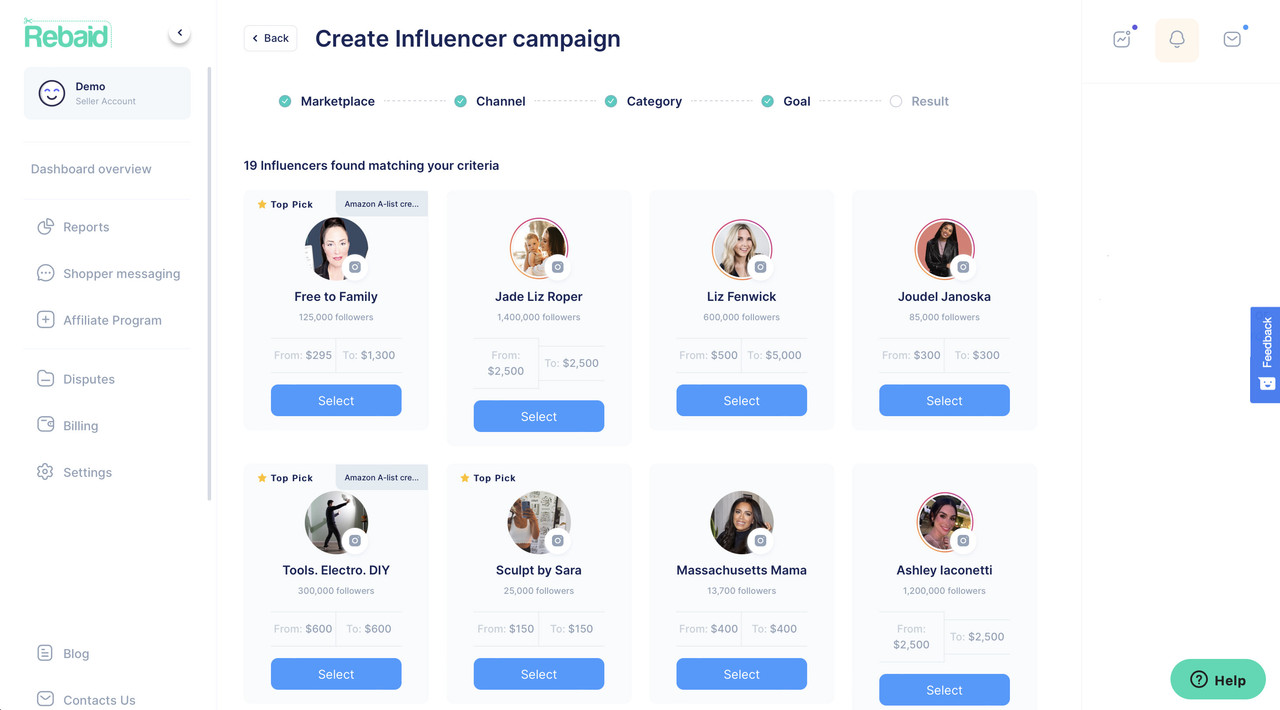 Once you select an influencer campaign and book on Rebaid you'll be sent a short form to fill out with some basic information including special request or product features you would like highlighted. Lastly your live broadcast is scheduled to go online at a pre-determined time. You'll be walked though the process on each step by our influencer program manager.
Conclusion
Whether you book an influencer campaign through Rebaid, or go at it alone, there are a couple key takeaways from this article that are worth remembering. A few lifestyle influencers would likely be more impactful than your product being featured by 1 celebrity infkuencer,
If you are booking through Rebaid strongly consider influencers tagged as "Amazon A-List" and "Top Pick". Amazon A List is a designation applied by Amazon to influencers who create the best content on Amazon Live. Rebaid has many A-List influencers available to book today! Top Pick influencers are influencers who have demonstrated consistent, high quality and high converting content.
Lastly it is worth noting the development cycle of Amazon's programs. Similar to the low cost, high returns of sponsored product campaigns in the early days of that program, Amazon Live is also in it's golden window, where high returns can be generated at a low cost. This will inevitably change in coming years as demand for content produced and broadcast on Amazon Live grows. So take advantage of this opportunity soon!