Just like that, it is October! Halloween is right around the corner and so is your chance to make a seriously spooky statement. Get into the holiday spirit early this year by crafting some of your own wickedly creative DIY Halloween decorations at home with the kids!
Kids Halloween Events
Thanks to social distancing, kids' Halloween events may be far and few between. Luckily there are plenty of Halloween events you can do with kids at home to keep the spooky spirit alive. DIY Halloween decorations are a great way to get into the spirit of Halloween.
Start your Halloween adorning with things you already have on hand. There are plenty of black bats and pumpkin projects that can be done with construction paper and other tools you likely have at home.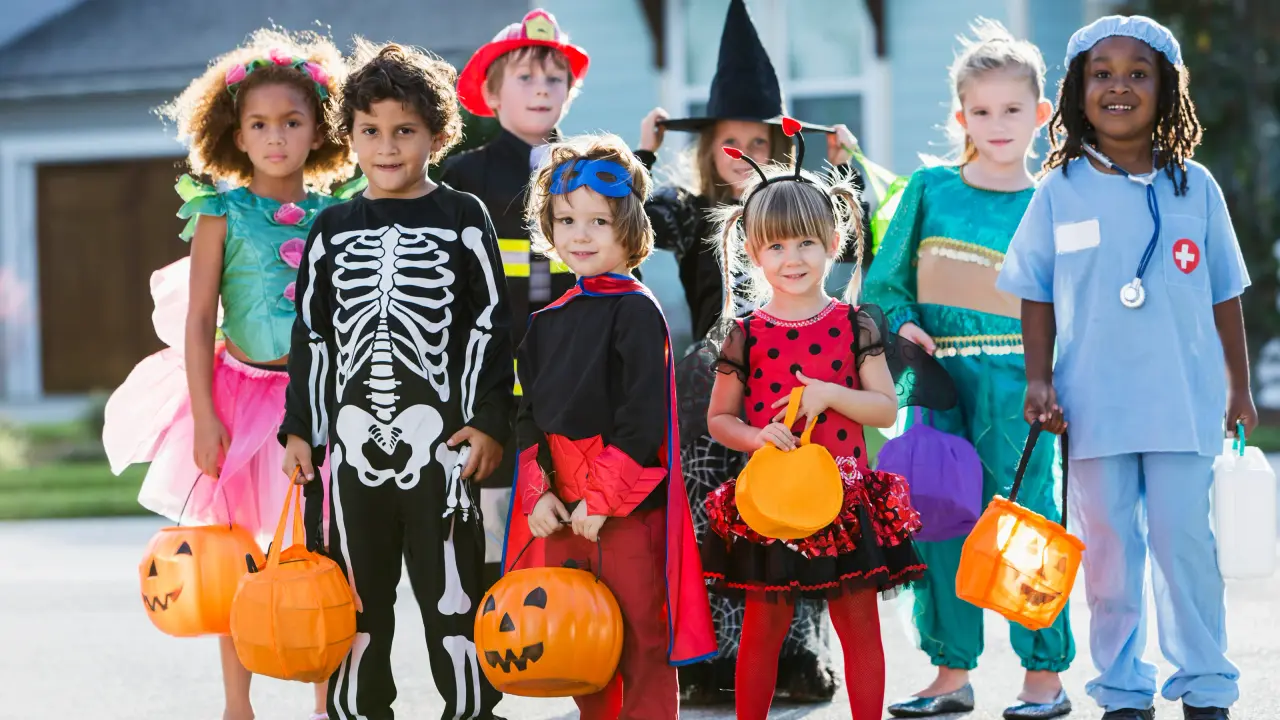 Halloween Symbols!
There is no shortage of Halloween symbols for use in your decor! Any symbol, from a skeleton to some purple corn can turn a bare entryway into a festive foyer. If you're looking for things to create the options are endless.
Use what you have at home by starting with Origami. Origami is the ancient Japanese art of paper folding. But today, any sort of paper folding is referred to as origami regardless of origin. The list of things that can be made with paper is endless, especially if you have some time and patience.
Origami Bat
An Origami Bat is a notable Halloween symbol and festive addition to any households decor. This figure can be made in under five minutes and is a fun activity for older kids looking for a challenge. Watch this easy step-by-step video on creating an Origami Bat.
Sock Pumpkins
A perfect project for those loose white socks you have laying around, sock pumpkins are an easy activity that kids of all ages will love. All you need is the equipment below. Check out the full instructions on the One Little Project blog.
Equipment
Sewing needle

Glue Gun

Scissors
Materials
1 tube sock

WHITE

fabric dye

ORANGE

4 feet thread

ORANGE

2-3 cups stuffing

1 stick

2-3 INCHES LONG

1 pipe cleaner

GREEN
Ghosts
DIY Ghosts are a cost effective activity and a fun decoration to hang around the house. Your kids will love making ghosts as they are easier than ever and can be made in multiple shapes and sizes. Both younger and older children can make these two variations of small and large ghosts. Small homemade ghosts can be made with tissues, a rubber band and a sharpie. Larger versions of ghosts can be made with a balloon, string, white fabric, and a sharpie
Small Ghosts
Materials
Box of tissues

Marker or black pen

Rubber band or string
Directions
Take two tissues and make one ball

Place the ball on top of another tissue

Pick up the ball with the tissue over it and twist

Tie a string around the ball, or a rubber band to form the neck of the ghost.

Draw faces!
Large Ghosts
Materials
White fabric (old sheets work)

Balloon, Styrofoam ball or lightweight ball

String
Directions
Drape white fabric over the ball

Poke a hole in the middle of the fabric, or where it meets the top of the ball

If using a balloon, tie the string to the balloon nub (if using styrofoam use a hook pin.
Draw a face on the fabric
Pumpkin Candy Jar
In addition to carving your favorite Jack-O-Lantern this fall, consider carving a one of a kind candy jar. This pumpkin candy jar makes a unique display in an entryway, kitchen, or even on your coffee table.
Just carve a hole in your pumpkin, and remove the seeds in the same way you would carve a Jack-O-Lantern. Then add rope or any other sort of adornment around the hole for a polished finish.
Matte Black Candle Stick Holders
Paint old wine bottles black and use them as candle holders for a spooky table centerpiece. Paint your bottles with acrylic paints that stick to glass, and pick up some long candlesticks from your local craft store. For dramatic effect, make sure to let the candle wax drip down the side of the bottles as part of the display.
Ghost Paper Bags
A perfect way to spookify your staircase, or driveway- ghost paper bags are easy to make and create a big statement. All you need is some white paper bags, a sharpie and tea light candles, or some LED battery-powered candles. Draw a face on the ghost bags, put your light inside, and you have yourself a ghostly good time.
Spider Pumpkins
Turn your mini pumpkins into a creepy-crawly decoration in a matter of minutes. All you need is some black pipe cleaners, a few mini pumpkins, a pumpkin carving knife, tea light candles or LED candles, and a sharpie!. Carve a tea light-sized hole in the top of your pumpkin, take four pipe cleaners and bend them into leg shapes. Take a pointy end of your pipe cleaners and stab it into the pumpkin, positioning the pipe cleaners like legs, as shown below. As an option, draw a smiley spider face on your pumpkin for some added characterization.
Sparkly Witches Brooms
Get some life-sized decorations set up using things you already have in the house. All you need is an old broom, paint, and some optional spray glue and glitter. Take an old broom and spray paint it black, or use some of the leftover acrylic paint from the candle holder project above! If you have spray glue, spray the broomstick with glue and then cover it in glitter. The final result is a sparkly wicked witch broomstick to be displayed at a front door, or somewhere inside.
The traditional carved pumpkin takes a new form...
Last but not least, make some not-so-traditional carved pumpkins. Rather than a smiley face, or a spooky bat- turn your Halloween pumpkin into a baseball or a glass bead lantern with some beads.
Baseball Pumpkin
All you need is some red paint, or if you want to get really crafty, some red yarn and a thick needle. You can paint baseball threads onto your pumpkin or you can poke holes and actually thread string through your pumpkin.
Lantern Pumpkin
To make a lantern pumpkin, carve out your pumpkin like you would a normal pumpkin, removing the seeds and top. Then, carve glass bead-sized holes into the pumpkin, space into places you would like light to shine through. Add glass beads into the holes, and add a candle or LED light, to see your pumpkin transform from a pumpkin to a glowing lantern.