Labor Day is quickly approaching, and with the three-day weekend comes sales, family time, and best of all, vacations! Here is your list for locating the top vacation destination in your area if you live in an N through W state. If you call an A through M state home, then head on over to our Labor Day Part One Article!
1. Nebraska & South Dakota - Mount Rushmore & Badlands National Park
If you're spending your Labor Day in the Cornhusker State, stop by Mount Rushmore for a visit, then head over to Badlands National Park in South Dakota. About an hour away from the iconic mountain of faces, Badlands National park is a great place for a day trip if you're looking to hike around the grasslands or drive through the scenic lookouts.
2. Nevada - Lake Tahoe
Split between Nevada and California, Lake Tahoe is one of the world's top ski destinations. But during the summer, it is also a top water activity destination. Boaters and swimmers alike gather at Lake Tahoe to enjoy the crystal clear water and hike through the majestic trails the Lake has to offer.
3. New Hampshire - White Mountain National Forest
White Mountain National Forest in the Granite State is a site to see. If you're spending your Labor Day in New Hampshire consider hiking around the White Mountain National Forest!
4. New Jersey - Atlantic City
The Garden State is the birthplace of many popular things, like the Jersey Shore cast and The Sopranos. New Jersey is also home to the famous Atlantic City. A top tourist destination, not only for New Jersey residents, Atlantic City is famous for its casinos, beaches and boardwalk.
5. New York - Montauk
New York is home to plenty of tourist destinations, but if you are looking for a place to visit for Labor Day, look into Montauk. The Empire State is not known for its beaches, but it has amazing ones to offer visitors.
6. North Carolina - Outer Banks
North Carolina was known for its popular beaches long before the success of the Netflix series Outer Banks. The Old North State is a great affordable place to vacation for Labor Day. Relax on one of the beaches, or take a boat ride through the marsh.
7. North Dakota - Theodore Roosevelt National Park
If you're a North Dakota resident or just visiting, the Theodore Roosevelt National Park is a great place to spend your Labor Day Weekend. The Peace Garden State is home to tons of natural wildlife like buffalo, and bison. Hike around the park and breathe in the beautiful space.
8. Ohio - Amish Country
A turn of events from the National Parks and beaches that sweep this list, one of the best places to visit in Ohio is the Amish Country. The Buckeye State has vast Amish communities that sell things like bread and homemade jams. Visit Amish country this Labor Day and see how simple life could be!
9. Oklahoma City - Wichita Mountains Wildlife Refuge
If you're spending Labor Day in The Sooner State, look up accommodations in or around the Wichita Mountains Wildlife Refuge. The mountain range is home to bison, elk, and wild turkey. Go for a hike in the area and see what nature has to offer.
10. Oregon - Bend
While Portland is the most obvious choice for a weekend getaway in Oregon, try a visit to Bend instead. A cute town with a huge river, tons of trails for hiking, and tons of mountains to explore. Bend is one of the most underrated towns in Oregon.
11. Pennsylvania - Gettysburg
There is no better place in the State of Independence to celebrate the historic Labor Day holiday than at Gettysburg. Home of the Gettysburg battle and subsequent address, the area is filled with entertainment for history buffs and casual visitors alike!
12. Rhode Island - Newport
The Ocean State has options when it comes to Labor Day Weekend Getaways- It's hard to choose between Newport, Providence, Block Island, and Narragansett. We have settled on Newport for our top pick. Newport has the most to do, especially if you are there for the entire weekend.
13. South Carolina - Hilton Head Island
This Labor Day, look no further than Hilton Head Island for your long weekend. A safe haven from the hustle and bustle of the surrounding cities, Hilton Head Island is a great spot to vacation. Sandy white beaches and tree-lined streets make this a tropical paradise.
14. Tennessee - Nashville
This is an easy one because everybody loves Nashville, Tennessee! The Volunteer State is famous for Nashville and its music-lined streets. If you're looking for a lively place to spend your Labor Day Weekend, don't pass by Nashville, Tennessee.
15. Texas - Austin
If you're looking for a city, swimming, breweries, and nightlife in Texas, then Austin is the place to go! Boasting not only Lake Travis, and multiple rivers, but the Barton Springs Municipal Pool too! There are plenty of opportunities to stand up paddleboard, swim, float, eat and shop in the city of Austin.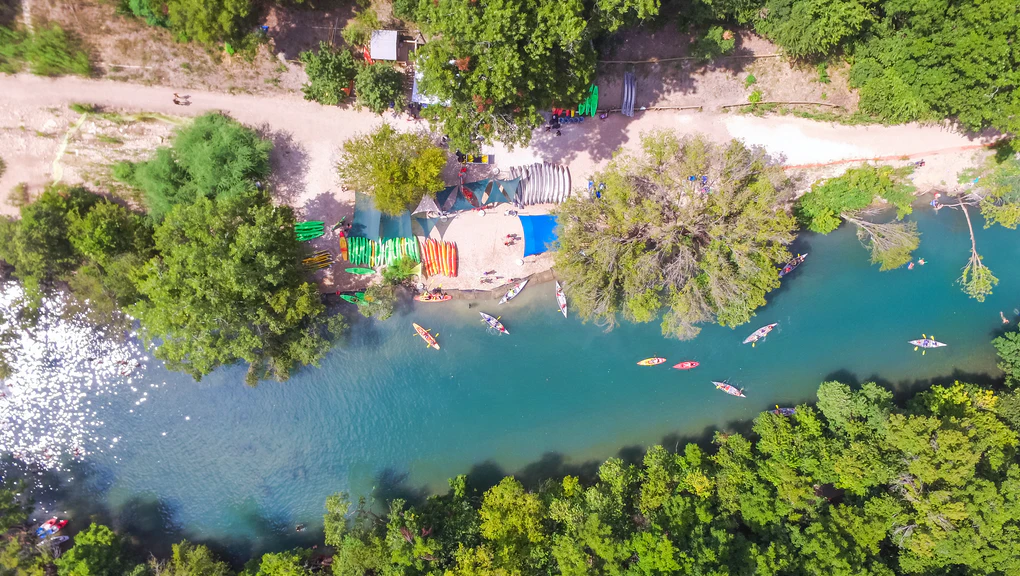 16. Utah - Moab
The Beehive State is home to some of the most amazing rock formations and other natural scenery. If you're spending your Labor Day in Utah, you might want to consider spending it hiking around and exploring the vast beauty that is Moab!
17. Vermont - Shelburne
A long weekend in Vermont is best spent in Shelburne! The Green Mountain state is home to dozens of cute crunchy towns that make the perfect setting for a weekend away. But Shelburne is one of the most popular, thanks to its rolling hills and picturesque architecture.
18. Virginia - Virginia Beach
Spend your Old Dominion State Labor Day soaking up the sun at Virginia Beach! Lounge in the sand, build sandcastles, or splash in the waves! You can go wrong with a beach trip for a three-day weekend!
19. Washington - Olympic National Park
The most visited place in The Evergreen State is Olympic National Park. The home of famous Mount Olympus, and plenty of hiking and backpacking trails along the ocean, and 500-year-old trees. Olympic National Park is for those who are looking to partake in an adventurous weekend getaway
20. West Virginia - Black Water Falls State Park
The Mountain State is filled with parks, and Black Water Falls State Park is filled with waterfalls! If you want to spend your Labor Day chasing waterfalls with your family, make sure to check out Black Water Falls State Park!
21. Wisconsin - Milwaukee
America's Dairyland as it is warmly nicknamed is home to Milwaukee! Milwaukee is an excellent place to spend your Labor Day weekend if brewery tours are your thing.
22. Wyoming - Jackson Hole
Fondly referred to as the Cowboy State, and more recently the home of Kanye West. Jackson Hole is a popular ski destination, but it is also an amazing summer escape too. Spend your Labor Day in Jackson Hole exploring the Grand Tetons or kayaking through the Snake River.