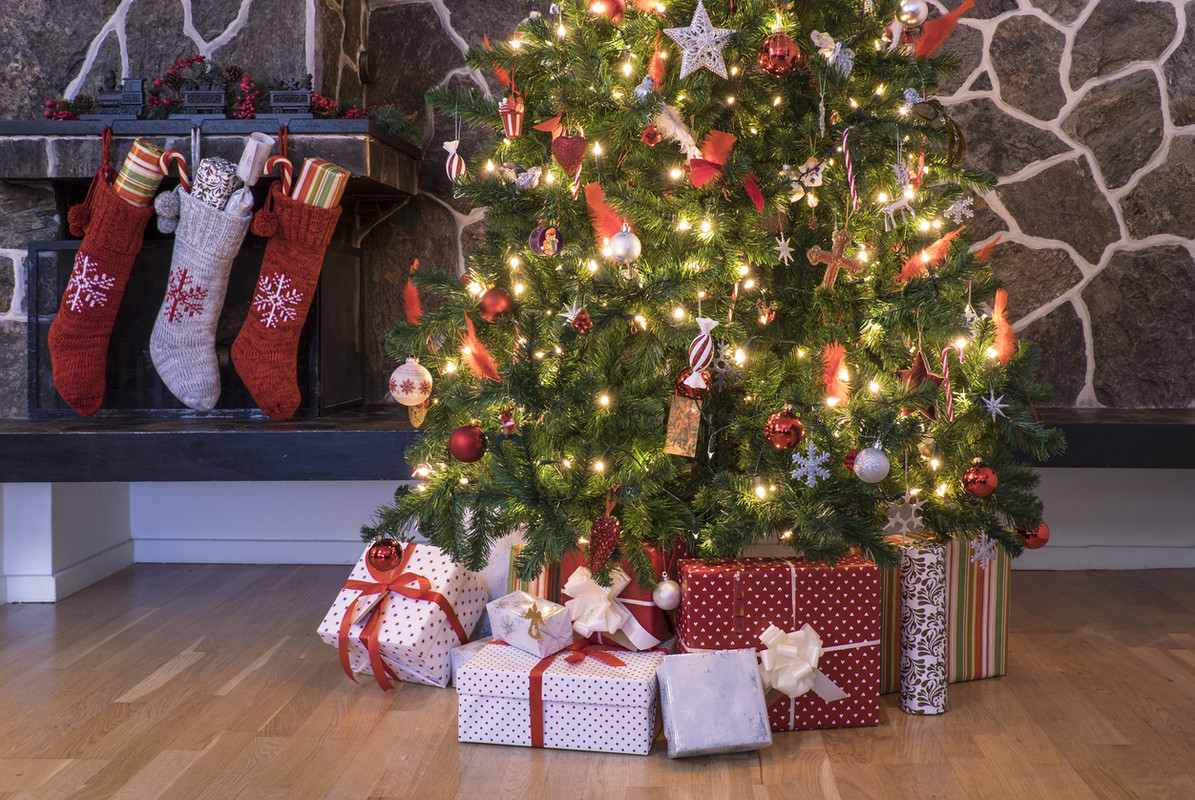 Are you looking for Stocking Stuffers Under $5 but having a hard time thinking of what to stuff in your family's stockings this year? Tired of the markups on small items around the Holidays? This year we are putting together a list of the best places to find stocking stuffers and at the best prices. Finding items under $5 is easy, but finding high-quality items under $5 is hard! Let this be your under $5 stocking stuffer resource for the whole family!
The Origins of the Stocking
Christmas stockings are empty socks or elaborately decorated large stockings that are traditionally hung out on Saint Nicholas Day, also known as Christmas Eve. According to old folklore, Christmas stockings started when three poor sisters hung stockings up over their fireplace to dry them in the night. In the early morning hours, Saint Nicholas threw three gold coins into their stockings. This began the Christmas eve ritual of hanging stockings up and waking up on Christmas morning to stockings filled with gifts. These stockings were just straightforward socks and hosiery for years. But in the 1800s more elaborate Christmas stockings became popular, with festive decorations, and extra space for goodies.
Modern Stocking Traditions
Christmas Stockings today are an integral part of Christmas celebrations. Each family has their own Christmas tradition surrounding stockings. Some families open their stockings on Christmas Eve, and other families dive into their Christmas Stockings on Christmas mornings. The contents of the stockings vary from family to family as well. Most families use stockings as a vessel for their smaller gifts, or treats.
Where to Start
Lucky for you there is a place you can get Stocking Stuffers for everyone on your list at no cost to you. Yes, you read that right; free products, many of which are 100% off after rebate- and there is no catch! There are plenty of other products marked down to prices below $5 as well with exclusive discounts, no rebate redemption is needed. Brands offer rebates as a way to give out free samples and attract new customers.
Cashback on purchases from Walmart, Target, Etsy and Amazon.
Rebaid is a website that offers tons of high-quality items from Target, Walmart, Etsy & Amazon, and plenty of other stores. It is a no-review-required rebate website that sellers use when they are launching a product. Brands give away their products as samples for marketing and we shoppers get to reap the benefits! There are also plenty of exclusive discount codes and heavily marked-down products for all of your Stocking Stuffing needs. Use Rebaid as a resource for finding Stocking Stuffers Under the $5 mark!
Target Stocking Stuffers
This year hundreds of thousands of shoppers are looking to retail giant Target for their stocking needs. Target boasts an under $5 section in stores, which makes finding stocking stuffers under $5 super simple. If you are shopping online, Target has a button that lets you organize by price here are a few Target stocking stuffers available now. Lucky for you, freebies from Target are also available here.
Target Stocking Stuffers
Chapstick, card games, and candies all make great stocking stuffers, not just for kids but for the whole family. Hair Ties and scrunchies also make great stocking stuffers, and are available at Target for less than $5! For less than $10 shoppers can get earbuds, PopSockets, and essential oils for stockings.
Heyday Wired Earbuds, PopSockets, PopGrip Cell Phone Grip & Stand, Lavender Aromatherapy Essential Oils
Walmart Stocking Stuffers
Walmart is a great place to find affordable stocking stuffers. After all, the Walmart slogan is Save Money Live Better! We went through their selection of stocking stuffers so that you don't have to. Walmart is a staple store in most American communities, making it a great place to source your stocking needs. If you want to learn more about how Walmart Changes Communities don't miss our article outlining just that! Walmart is a great place to find affordable jewelry, knit hat and glove sets, and even boxers!
Walmart Stocking Stuffers: knit hat, boxer, and jewelry.
Stocking Stuffers For Gamers
Walmart also carries a sizeable selection of stocking stuffers for the game enthusiast in your life. No not a board game enthusiast - computer and video gamers! This year the new PS5's are all the rage, but they are very hard to get your hands on- and they will certainly not fit in a stocking. The new Halo XboX's pose the same issues!
Gamers enjoying the Holiday, their way!
Buy the gamer in your life a Microsoft X Box Game Pass Ultimate 3 Month Membership, or a Mario + Rabbids Kingdom Battle Nintendo Switch. The Nintendo switch is usually $60 but available for $15 for a limited time! Both would make a great stocking stuffer and are available online. Or check out all of the video games on sale at Walmart this holiday. Also use Rebaid as a resource for free portable computer screens, that are frequently available, and cashback on Walmart purchases.
If you are looking for stocking stuffers for gamers that are under $5 check out these gamer-themed socks!
Golf Stocking Stuffers
Are you looking for stocking stuffers for the Golfer in your life? While golf balls may seem like the obvious choice, there are plenty of other gifts your golfer will love. Ball picker-uppers, custom crochet club covers, and tee packs are all great stocking-sized gifts. Range finders would also fit in a stocking and make a functional present for your golfer. Or pick out a bluetooth speaker that fits onto a golf bag for your loved one. If you're looking for Golf Stocking Stuffers Under $5, get the golfer in your life some custom socks.
Golf Accessories for Stocking Stuffers

Stocking Stuffers for Kids
Kids' toys come in all shapes and sizes, many of which fit in stockings! Luckily stocking stuffers for kids, especially ones under $5 are not a challenge to come by.
Oranges which are a traditional stocking item in many countries are the perfect size for a stocking and under $5. Oranges used to be pricey and very hard to come by, making them a delicacy around Christmas time.
Card Games are no longer confined to Aces, Spades, Diamonds, and Hearts. Game creators have come up with a sleuth of games in the same familiar card shape, with completely different designs and rules. These new card games are a fun new take on old traditional favorites.
Candies, sunscreen sticks, or bubbles also make great functional stocking stuffers and can be found for less than $5. There is no better gift than a functional gift. Legos and mini squishmallows are all the rage this year, and perfect for kids between the ages of three and twelve years old.
In Summary
There are plenty of Stocking Stuffer options across multiple sites and stores at great prices. Picking out your small gifts for the Gamer, Golfer, or kids in your life doesn't have to be hard especially on a budget. Happy Shopping, and Happy Savings!