The Menards 7169 program is BACK! Save Big Money With Menards!

Initially introduced in 2019, The Menard 7169 is the name of the Menards Home Improvement Store's 11% cash back rebate program! The rollout was such a success that Menard's has brought the concept back.
Record-breaking home sales in 2020 and 2021 created a record-breaking cost of lumber. Not many home improvement retailers are offering discounts right now, but Menards is! Learn about the history of Menards and their founder, get the inside scoop on all of their current rebate offerings, and check out our top product picks, here!
What is Menards?
Menards would best be described as Bed Bath and Beyond meets Home Depot. Menards carries home improvement supplies for everyone and anyone. So whether you are a YouTube home DIY video junkie or a professional contractor, Menards will have products for your needs. Shoppers can buy things for their pets, lighting for their home, and wood for their deck all in one place- and now at with an 11% cashback rebate.
John Menard Jr.
Menards was founded in 1960 by John Menard Junior. You may also know him as the father of the recently retired NASCAR Cup Series driver Paul Menard. Or as a former INDYCAR racing team owner.
John Menard Junior was the oldest of eight siblings and grew up in Eau Claire, Wisconsin.
Today, John Menard Jr. is the richest man in Wisconsin, with a net worth of 20.4 Billion dollars, and is a repeated member of the Forbes Annual List of the World's Wealthiest People. With other list members including Jeff Bezos, Elon Musk, Bill Gates, and Warren Buffet.
A force to be reckoned with, Mr. Menard started his empire at the young age of twenty. As the dairy industry was becoming mechanized in his home state of Wisconsin, he noticed the need for affordable structures for daily buildings. Before even graduating college, he started a pole-building business. As the pole business grew, Mr. Menard noticed many customers needed lumber as well.
Menards operated as a cash and carry lumber and pole building business until 1994 when the company added their home improvement centers.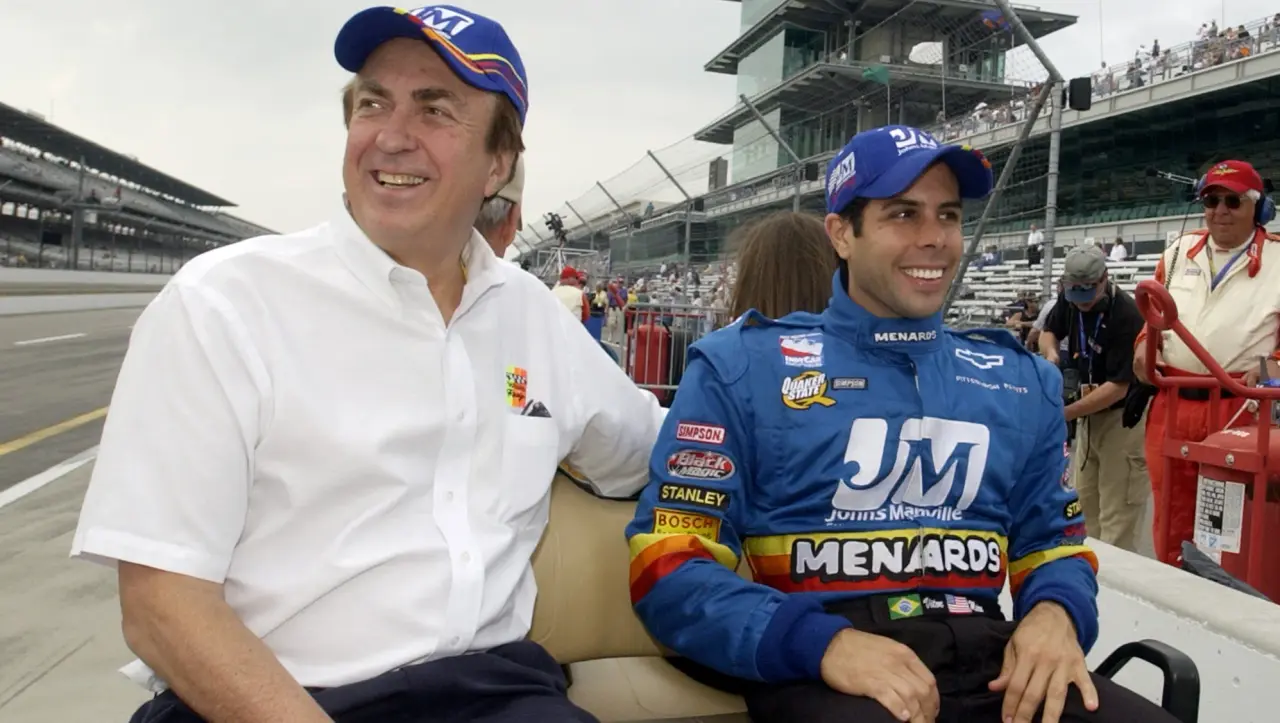 Quality Over Quantity
How has Mr. Menard amassed his fortune? Through the creation of a home improvement store dedicated to quality and service! Menards was founded in Eau Claire, Wisconsin, and is currently still based in Eau Claire. With all of Menards' 336 locations stationed in the fourteen states between Wyoming and Ohio, the chain has turned into a well-loved Midwest favorite- and is recognized as the leading home improvement store of the Midwest.
Menards #7169 Deal
The Menards #7169 deal is back, the name initially referred to a rebate offering from 2019. But the offer was such a hit amongst Menards shoppers, that they have brought it back as a reoccurring promotion. Now just called the Menards Rebate program, the deal offers 11% cashback on anything and everything in the store via rebate. That's right, the entire store.
Meaning you no longer have an excuse to not paint that wall you always stare at, nor is there an excuse to redo the kitchen counters you have been complaining to your spouse about! Now is the time to tackle these projects, and Menards is going to help you do it. They might even have a video on their site to guide you through your project.
What's In-Store?
If you are shopping online, Menards offers a multitude of design programs to get you inspired and ready for action. There is a "Design Your Own Door" program that lets you design both interior and exterior doors to match your home. You can even design your own deck through the program. The site itself offers an assortment of gardening, and "how-to videos" in case you are looking for inspiration or guidance on a project. Save Big Money!
The One-Stop-Shop
Menards offers their shoppers everything under the sun. They are ready to help you prepare for any Holiday by offering Holiday decorations year-round, for every occasion. They also offer unexpected items not typically found at a home improvement shop, like jewelry, toys, and games.
For all you sports fans, there is even a fan shop offering everything from jerseys to steering wheel covers and other sporting items. They offer products for the National Collegiate Athletic Association, National Football League, National Basketball Association, Major League Baseball, National Hockey League, and even the Military. Truly everything that you find inside or outside of a home can be purchased at Menards.
Redeeming Your Rebates
Once you have filled up your cart with goodies from Menards, you can begin thinking about your rebate. Make sure you save your receipt and order number, as this is a rebate that needs to be mailed in.
There are three simple steps you need to follow in order to redeem your 11% cashback offer from your purchases.
Fill out the required info on the form, including your name and address.

Enclose the original Menards "Rebate Receipt" along with the completed certificate in a secure envelope.

Mail the envelope to this address
Print this form and mail the rebate certificate, with its original receipt to:
PO BOX 155
ELK MOUND, WI 54739-0155
-------------
For a Huge Selection of Online Rebates- Make Sure to Check Out Rebaid.com Offering Deals Up To 100% Off, and Rebates in as Little as 3 Days!
------------
Important Things to Consider
Menards will only accept an original receipt for their rebate redemption. They will not accept a copy of a receipt.
However, you should make copies of your receipts for your own personal records on the off chance a rebate is lost in the mail or untraceable by the company. Menards requires six to eight weeks of processing time for the rebates, so don't expect your rebate overnight.
Your rebate however will come in the form of an unmarked tear open postcard, so make sure you keep a close eye on your mail to prevent accidentally throwing away your rebate check. As this is a commonly reported occurrence.
A Third Party Program
Like most companies, Menards uses a third-party rebate processing company called Rebate International. Companies use third-party programs to process their rebates, as it is too much work and too sensitive of data for the average employee.
Can I Track A Menards Rebate?
Since Menards doesn't offer online rebate redemption, it is helpful to still be able to track the status of your rebate online. Rebates can be tracked at www.rebateinternational.com. Tracking your Menards rebate is easier than ever.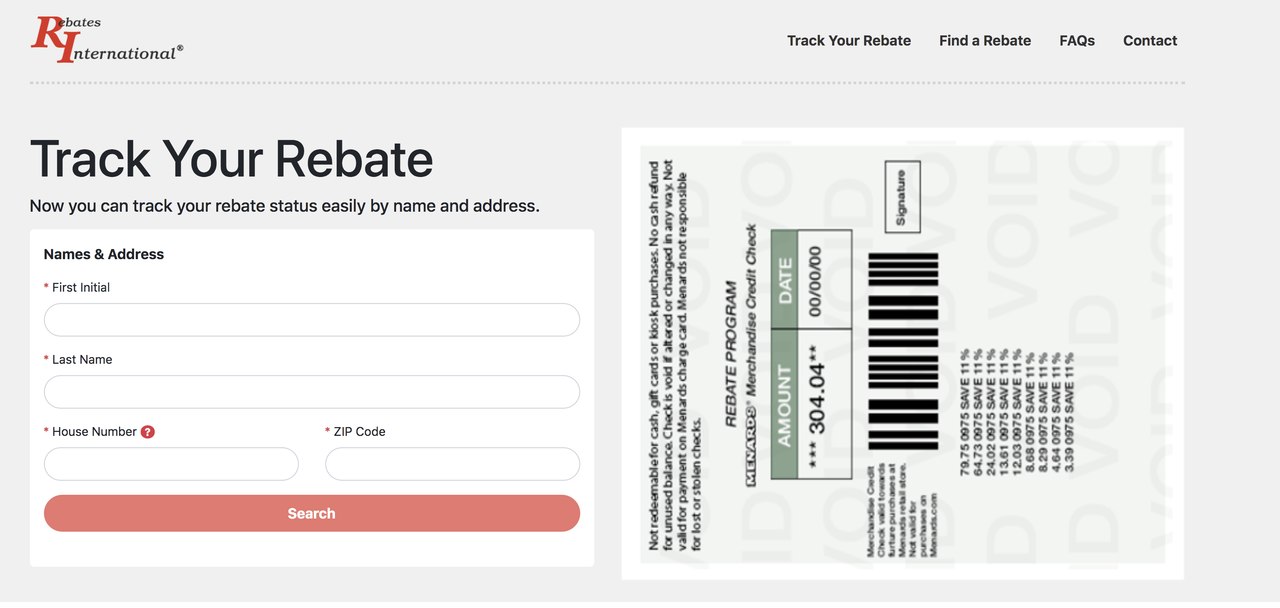 What If I Haven't Received My Menards Rebate?
If your rebate is seemingly lost or is taking longer than the expected 6-8 week processing period, make sure to check on it via the Rebate International website. If there is no record of your Menards rebate, you may file a claim with Rebate International. Rebate International will require you to provide your rebate receipt numbers, and additionally, they will ask you to mail in your original purchase receipts. So make sure you keep all of these important documents together until your rebate has been processed.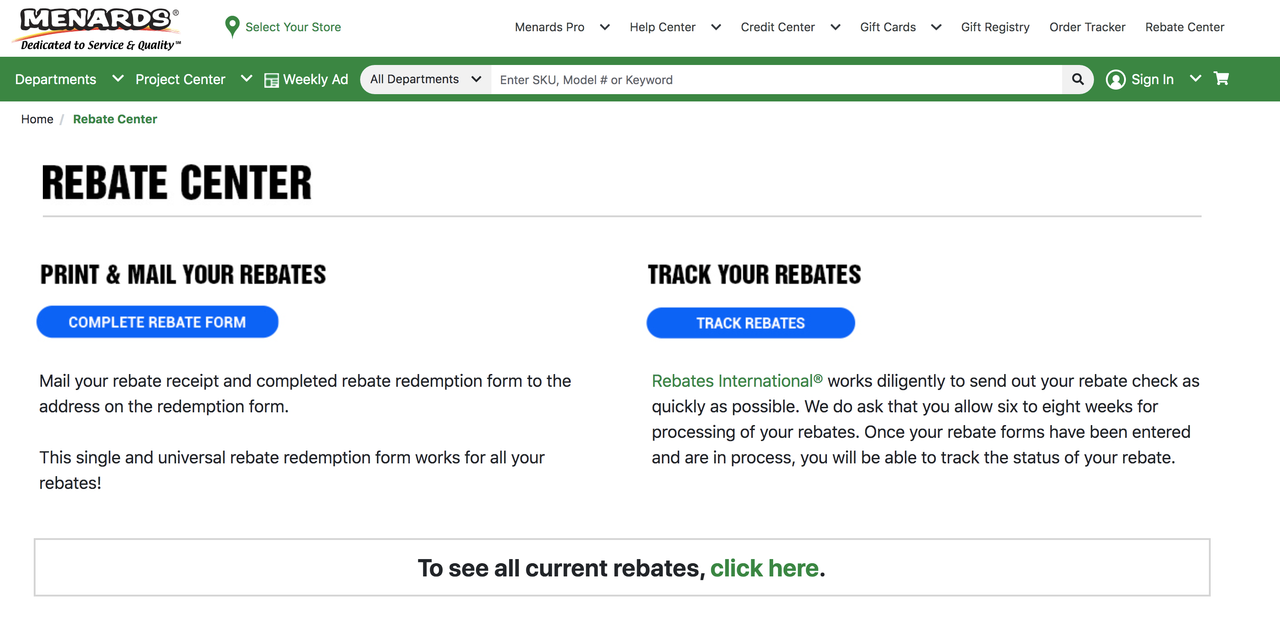 Expired Menards Rebate Forms
Do you have an expired Menards Rebate Form? Unfortunately, Menards typically does not make exceptions for their expired rebate forms. But their customer service team has been known to make exceptions for first-time offenses, so it does not hurt to ask!
Top Products From Menards
With a storewide 11% cashback offer and a massive selection of inventory to choose from. The purchasing possibilities are endless. Here are our top product picks from Menards.
All Things Dog
If you need anything for your pet, make sure to take advantage of the rebate program and purchase through Menards. They have a wide selection of dog beds, treats, bark control collars, kennels, and even food for your furry friend. Rivaled only by Petco, Menards is a one stop shop for all of your pet needs.
Hydro Massage Rosabella Freestanding Tub
Get the tub of your dreams at Menards. Are you in the market for a freestanding tub? Menards has exactly what you are looking for! And with their 11% cash back rebate program, there is no better place to buy your next tub. You can get a rebate of $339.44 back after purchasing your tub through Menards.
Fix Up That Deck!
Get ready for summer and make some improvements to your current deck- or turn your dream deck into a reality with Menards expansive deck section. Get everything for your outdoor space. They offer protective railings, raw lumber, and even sealant. You can even complement your deck with seating to comfortably fit your whole family!

Rugs For The Whole House!
Get up to $200 cashback on rugs by purchasing your rugs from Menards. With a selection of over 4,000 rugs to choose from, you are bound to find one for every inch of your floor.

Deck The Halls
Make your holiday decor the talk of the town! Menards offers full nativity scenes, life-sized reindeer, and lights for your whole house for the Christmas season. They also offer holiday decor for every other holiday too!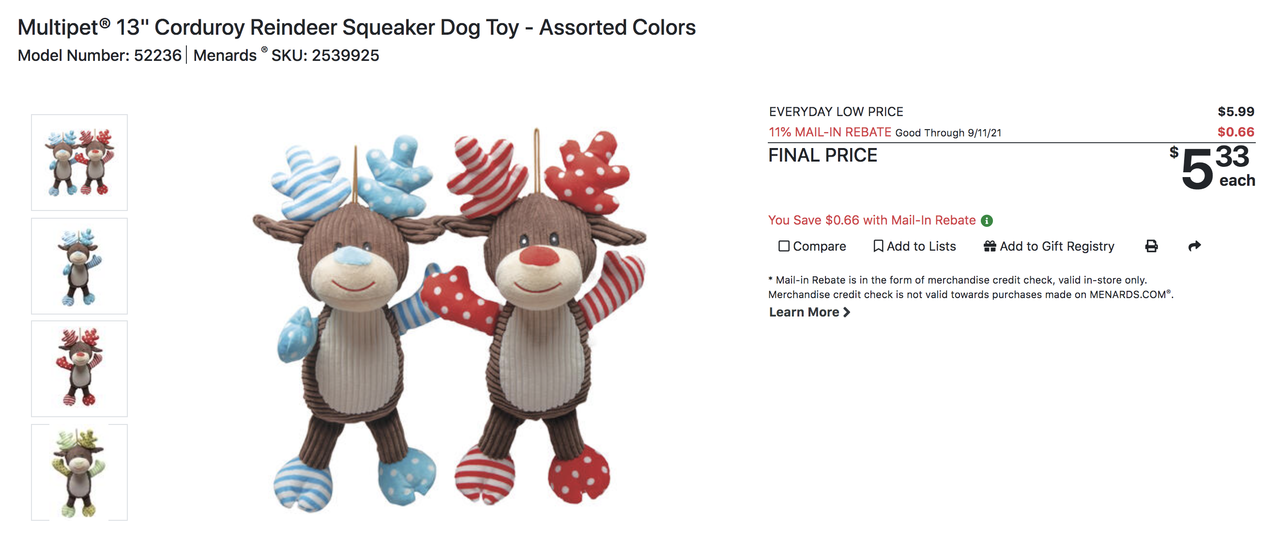 Jewelry
You read that right, Menards also sells Jewelry.- And you will be shocked again by the prices, not to mention the impressive selection. You can buy a new closet, and then fill it up all in one store at Menards.
Solar and Wind Power
If you are looking for some environmentally friendly powering options, check out Menards solar and wind power section. They offer a massive assortment of solar panels and wind turbines. You can get up to $4,729 back through the Menards mail-in rebate program. So if you are in the market for solar, you know where to go.
Extreme Kitchen Makeover
Turn your kitchen into the room you have always wanted it to be, with Menards kitchen section. They offer finished and unfinished kitchen cabinets, bar equipment and cocktail stations, countertop slabs, and laminate flooring. You can even purchase your kitchen essentials, like knives, food storage containers, strainers, and even cutting boards.

Turn Your Backyard Into A Spa
The backyard you have always dreamed of is one shopping trip away. Check out Menard's selection of saunas and spa hot tub accessories. Take a dip after work, or sweat out to relax in your new sauna. Save up to $800 on home saunas by using the Menards mail-in Rebate program!