Labor Day is quickly approaching, and with the three-day weekend comes sales, family time, and best of all, vacations! Here is your list for locating the top vacation destination in your area if you live in an A through M state. If you call an N through W state home, then head on over to our Part Two!
1. Alabama- The Gulf Shore
If you're a resident of the Heart of Dixie State, you might want to venture to The Gulf Shore this Labor Day. The Gulf Shore is the most popular vacation destination in the state thanks to its big beautiful beaches, hiking trails, and golf course.
2. Alaska- Anchorage
The Last Frontier State is known for its snowy scenery and small towns. But the main vacation destination for its residents is Anchorage- the largest city in the state. If you're looking for somewhere to spend your long weekend check out the heritage sites and picturesque scenery of Anchorage, Alaska.
If you're spending Labor Day weekend in the Grand Canyon State, you will be surprised to know the Grand Canyon is not the most popular vacation destination for residents in the area. The mystical city of Sedona is the most popular destination for its serene hikes and natural rock formations.
4. Arkansas- Hot Springs National Park
Arkansas, also known as The Natural State is a site to see- the Ozarks are filled with rivers, hot springs and limestone caves. If you're traveling around Arkansas for Labor Day the most visited destination is Hot Springs National Park. Soak and relax this Labor Day!
5. California - Carmel By The Sea
Forget San Francisco and Los Angeles, if you're traveling around California for Labor Day make sure to check out Carmel By The Sea. One of the lesser-known tourist destinations, Carmel offers plenty to do for visitors. Between walking the beach, wine tasting in the valley, walking around the cobblestone streets or visiting the Monterey aquarium - you will not run out of activities
6. Colorado - Boulder
While Aspen is one of the most popular tourist destinations in the Centennial State, Boulder is a favorite amongst visitors. A college town with plenty of hiking trails and award winning breweries to offer its visitors. Boulder is also great place to spend Labor Day if you're looking to immerse yourself in nature!
7. Connecticut- Mystic Seaport
Many Connecticut residents venture out of The Constitution State to other vacation destinations close by. But there are a decent amount of relaxing beach towns to visit in Connecticut. Mystic Seaport is one of the most popular towns, known for the mystic seaport museum which is a 19th century recreated seafaring village.
8. Delaware- Rehoboth Beach
The Blue Hen State as some call it has a few beach towns, but Rehoboth beach is the most popular. Rehoboth Beach is famous for its boardwalk filled with restaurants and shops. Around Labor Day Rehoboth is filled with the vibrant noise of free live music concerts.
9. Florida- Sanibel Island
The sunshine state is best known for its beaches. But not everyone knows that Florida also has a ton of islands. Sanibel island being the most popular of the islands, known for its white sand beaches and wildlife reserves.
10. Georgia- Cumberland Island
If relaxing at the beach is how you want to spend your Labor Day in the Peach Tree state then you should plan your trip to Cumberland Island. Known for its expansive beaches and live oak lined roads, Cumberland island is great for camping, hiking or just relaxing!
11. Hawaii - Kauai
Anywhere in the Aloha State makes a good place for a vacation, but Kauai is a great place to start. Boasting picturesque beaches, breathtaking mountains, and cute local mom and pop shops. You can take a boat tour along the Na Pali Coast and relax on Hanalei beach.
12. Idaho- Coeur d'Alene
The Gem State is best known for its potato production, but it has a lot more to offer! The Coeur d'Alene lake is similar to California's Lake Tahoe. A perfect vacation destination for families, with lots of available watersports and activities!
13. Illinois- Chicago
The best vacation destination for residents of the Prairie State is Chicago. A dream in the summer- Chicago has plenty to do for residents and visitors. Hang out on the gold coast and pretend you're in Miami, take a river tour through the city, or visit one of the cities world famous museums.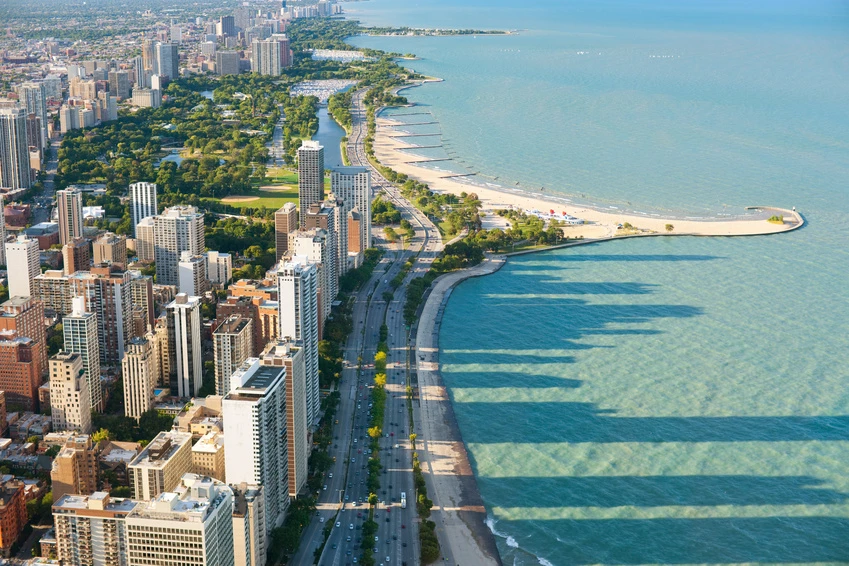 14. Indiana- Indiana Dunes National Park
If you are vacationing in the Hoosier State make sure to check out Indiana Dunes National Park. A big beautiful beach on Lake Michigan, Indiana Dunes National Park has activities for the whole family this Labor Day Weekend.
15. Iowa - West Okoboji Lake
The Hawkeye State is famous for its corn and agriculture- and for being the birthplace of Ashton Kutcher. Vacationers in Iowa flock to Lake Okoboji for water activities and family fun.
16. Kansas - Monument Rocks
The Sunflower State is home to this keyhole rock formation called Monument Rocks at the Chalk Pyramids. It is one of only a few formations like it in the world. The other ones are on the Amalfi Coast in Italy, Mexico, and China.
17. Kentucky- Mammoth Caves
The Bluegrass State is home to Mammoth Caves. A great destination for your next vacation, Mammoth Caves are a natural wonder of the world and the world's largest natural cave system.
18. Louisiana - New Orleans
The Bayou State is famous for its Creole culture and the vibrant city of New Orleans. New Oreleans is nicknamed the "Big Easy" and is one of the most popular tourist attractions in not only Louisiana, but America.
19. Maine - Acadia National Park
For people who are traveling around The Pine Tree State in search of a vacation spot for Labor Day, search no farther than Acadia National Park. Acadia National Park is home to forty-seven thousand acres of rocky beaches, mountains, and wooded areas. The popular city of Bar Harbour is a popular getaway in the area.
20. Maryland - Ocean City
This Labor Day, head to Ocean City, Maryland. Also known as the Free State, Maryland has plenty to do for travelers. Ocean City has beaches, boardwalks, and amusement parks for people to enjoy.
21. Massachusetts - Nantucket
Massachusetts is known for its Ivy League schools and historical relevance. But the Codfish State has so much to offer beyond that. Nantucket is a perfect peaceful place to spend Labor Day with family!
22. Michigan - Mackinac Island
The Great Lake State is home to much more than Lakes- it is also home to Islands. Mackinac Island in a vacationer's dream in Michigan. There is so much to do between hiking and water activities on the island. Making it a perfect place to spend your next Labor Day
23. Minnesota - Superior National Forest & Boundary Water Canoe Area Wilderness.
Another Lake state, Minnesota is known as the Land of 10,000 Lakes. A great place to spend a long weekend, Superior National Forest & Boundary Water Canoe Area Wilderness has plenty of activities to keep the whole family busy.
24. Mississippi - Gulfport
If there is anything we can learn from this list so far, it is that Americans love their beaches. The Magnolia State has Gulfport which is home to big white sand beaches.
25. Missouri - Elephant Rocks State Park
Missouri has one of the most unusual state nicknames- known as the Show-Me-State. The nickname is said to be given because of the devotion of it's people to common sense. If you're spending your Labor Day in Missouri, consider checking out the Elephant Rocks at Elephant rocks state park.
26. Montana- Yellowstone National Park
A breathtaking place to spend your Labor Day Weekend, Montana or the Big Sky Country has plenty to offer. It is also home to Yellowstone National Park. While the majority of the park is in Wyoming, it has still managed to rank itself as Montana's top tourist destination. Spend your Labor Day hiking the trails and seeing all of the hot springs and gushing geysers in Yellowstone National Park.