For many Los Angelenos, Joan's on Third is an integral part of the city. This unassuming cafe in between Beverly Hills and West Hollywood which gained popularity for its Chinese Chicken Salad, and Turkey Sandwiches has turned into an essential part of the LA restaurant scene. Joans on Third is a food haven for locals and a destination for tourists
LA's answer to New York's Dean & DeLuca (without the unfortunate financial instability.)
So how did this simple restaurant become an icon in a city known for its celebrity chefs and Michelin stars? By sticking to the basics. With a menu that has gone largely unaltered for 25 years, and ingredients purchased fresh daily. Joan, the matriarch and founder of Joan's on Third has managed to keep her restaurant focused on quality and flavor.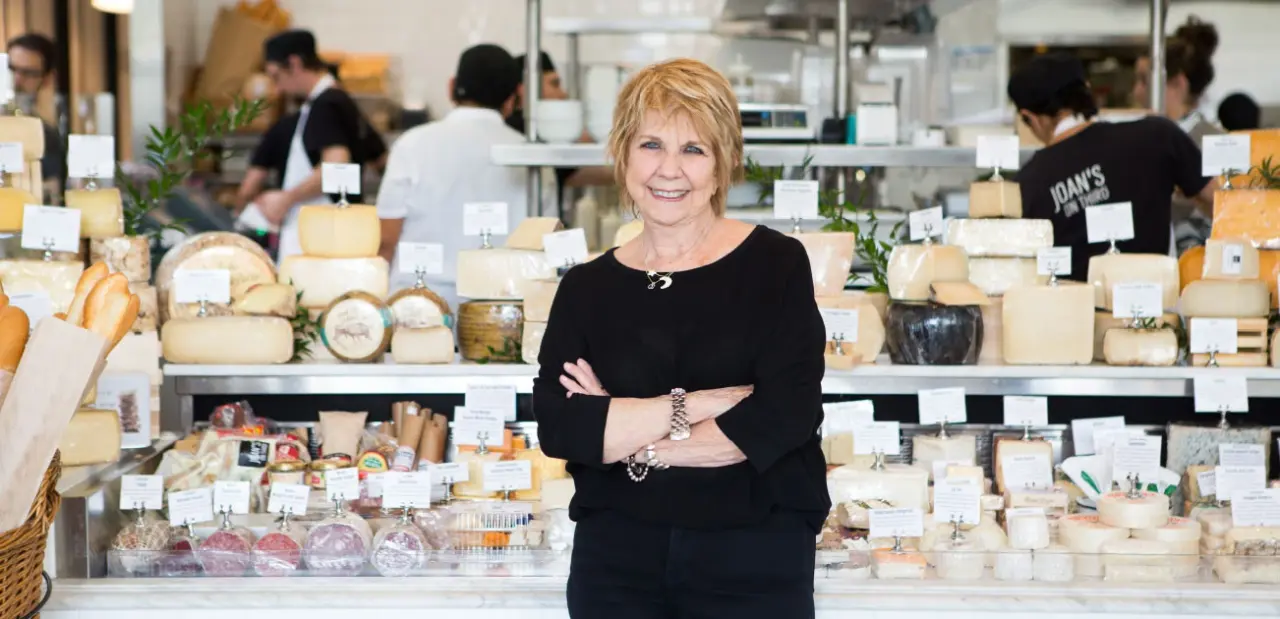 Image Courtesy of Joan's on Third
Who is Joan?
Joan McNamara started Joan's on Third in 1995 with her two daughters Susie, and Carol. The daughter of two Czech immigrants, Joan's life revolved around the kitchen from a very early age. That passion grew into a profession, and Joan went on to work for industrial designer Paul McCobb in Manhattan and the famous chef Dione Lucas. Together they launched a cooking school, and from there she and Lucas opened The Egg Basket, a gourmet omelet restaurant inspired by French cuisine and culture on 59th Street, which Joan eventually bought and ran herself.
"Joan's passion for cooking reemerged as the heart of her home, where she invited large groups of friends to gather until her guest lists outgrew her accommodations."
It was only natural that Joan started something of her own in LA. Which led to the beginning of Joans on Third. It quickly became one of LA's most popular caterers, and even made Third street a notable location. Since the opening of her namesake restaurant, Joan's on Third has expanded to a second Studio City location.
Joan's on Third at it's core is a family business. The restaurant was founded by two generations of women, looking to live their culinary dreams. The consistency of the food put out by Joan's on Third, is at a caliber that can only be reached through passion.
Image courtesy of Ventura
Joan's on Third - Studio City
The second Studio City location opened as an answer to all of the catering demands in the area. Studio City, named truly for the number of studios, always has crews with catering needs and Joans is here to deliver. Located just a mere 10 miles from the flagship store, the second store is in what used to be a post office. With over 5000 sq ft of space, it is larger and more modern than the original store. But it is not lacking any of the quaint charms of the original Joan's.
Joan's on Third Menu- What to Order
Joans is famous for its Chinese Chicken Salad, Prime Rib Sandwich, and Short Rib Sandwich, but don't let those three fan favorites keep you from trying the rest of the menu. The menu in its entirety deserves a taste. On Thursday through Sundays, breakfast is served all day. With New York breakfast sandwiches and buttermilk pancakes, you will not leave Joan's hungry. If voyaging in for lunch, their unique salad and sandwich offerings are sure to excite the palate. Check out their Ficelle, their Tarragon Chicken Salad, or their Maple Chicken sandwich. Their Szechuan green beans are all the rage and might pair nicely with one of their special orange floats. But here are a few of their most popular items...
The Short Rib Sandwich
Labeled by over 300 reviewers as the best in LA, the Short Rib sandwich is served on perfectly crisp bread with pickled onions, and pickles as a side.
The Prime Rib Sandwich
Another extremely popular menu item, the Prime Rib Sandwich is juicy prime rib, a gooey melted cheese, pickled onion on toasted bread. This sandwich is also served with Joan's signature pickles.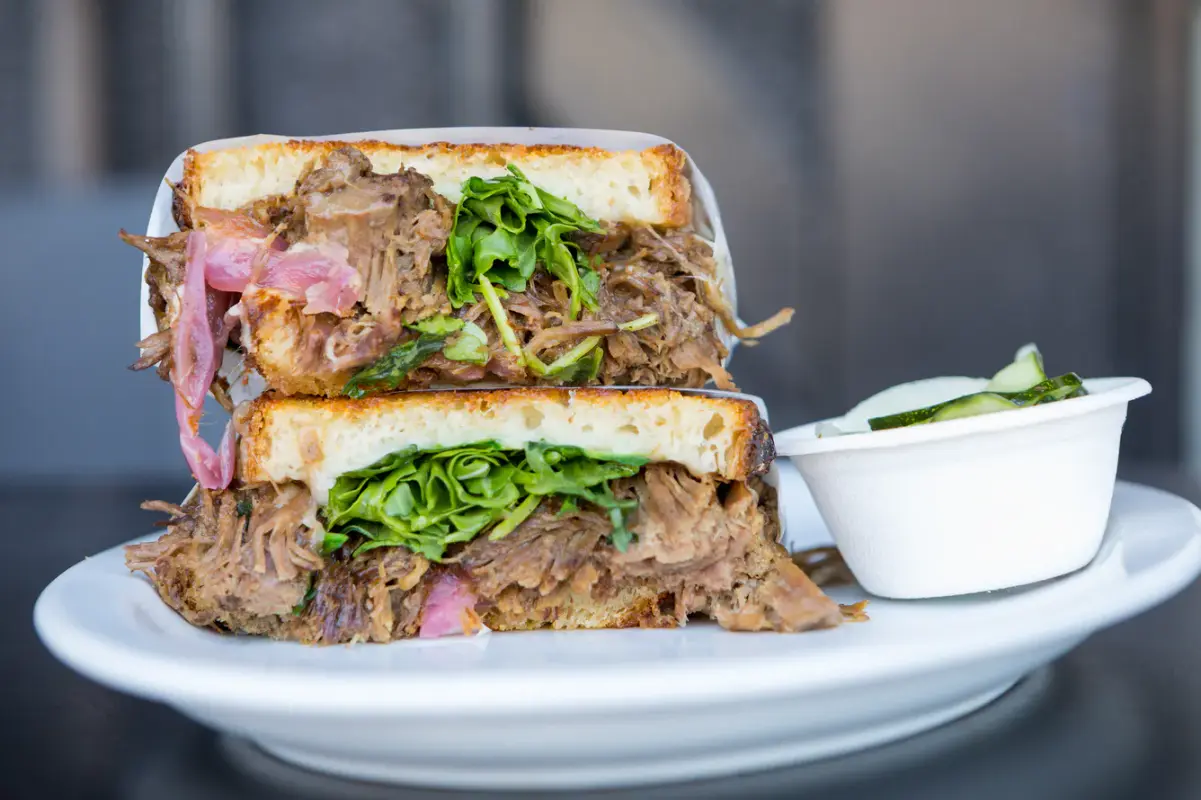 Image Courtesy of Jacob Leyman
The Chinese Chicken Salad
A simple take on a fun salad, the Joan's Chinese chicken salad is a balanced culmination of iceberg lettuce, fried crispy chicken, wonton strips, crispy rice noodles, slivered almonds, and a tangy sesame dressing. A menu favorite for a reason, many have referred to it as the best Chinese chicken salad in Los Angeles. It is the perfectly even dressing, a little bit sour and a little bit sweet. The crispy rice sticks separate it from other Chinese chicken salads. But don't take my word for it, try it for yourself.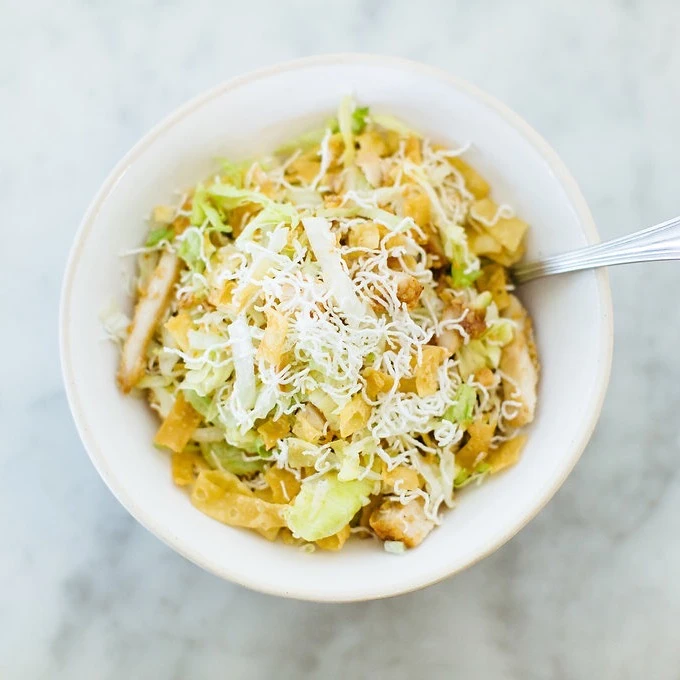 Image Courtesy of Joan's on Third
The Coffee
Joans on Third is also famous for their coffee, which happens to be a celeb favorite. Their menu appears to be a standard coffee menu, featuring the usual cappuccinos, lattes, and americanos. But the quality of their coffee far exceeds expectations. They may boast some of the best coffee east of the 405.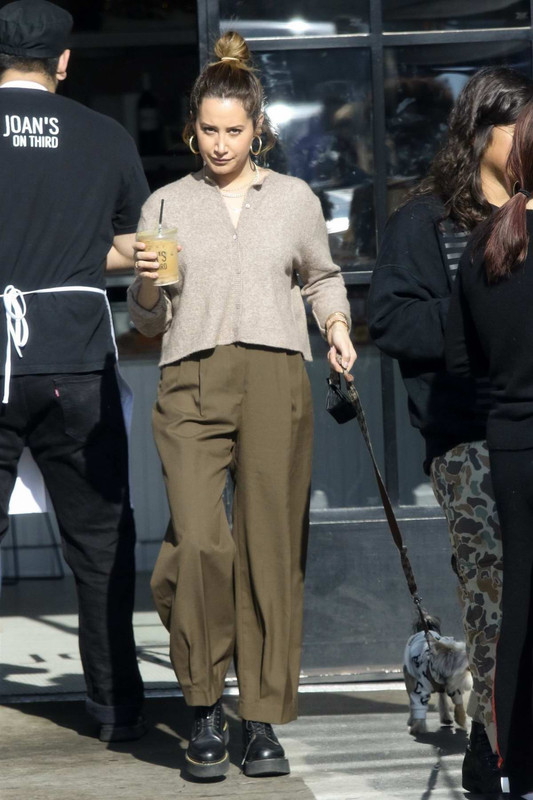 Image Courtesey of Pinterest
In Summary
Whether you are visiting Los Angeles from out of town, or you are a Los Angeles native just looking for lunch- make sure to stop by Joan's on Third. A decadent hub for not only salads and sandwiches, but coffee and even celebrity sightings. This iconic restaurant rose to fame in recent decades for its fabulous food, and it will continue to be a cherished Los Angeles Eatery for many years to come. Swing by their Beverley Grove location, or their Studio City location for a quick bite or snack and support two generations of women living their dreams.