Not so long ago, if you wanted to start an eCommerce empire, Amazon was the most direct route to market. Their flexible approach to letting virtually anyone sell on the platform, along with the fact that even new brands could enter their huge marketplace, have made it an obvious starting point.
Recently, Amazon's revenue overtook Walmart in the US, as people were found to spend more per household on Amazon than they did at Walmart, including the brick and mortar stores. However, it's not all bad news for Walmart, as the online sector of their empire has started to boom.
Amid the COVID-19 pandemic, buying behaviors changed. While visiting a Walmart store may have become a rarity for some, spending money at the retail giant didn't let up.
In February 2020, just 7% of Americans had ever used a curbside pickup service. By June, this was over 20%, driven largely by stores like Walmart expanding their delivery options for consumers. eCommerce was still the biggest winner in all the chaos, though.
If you dive into the statistics and eCommerce trends, there are some surprising findings. Yes, Amazon is still growing, but Walmart may be starting to catch up, providing an alternative for sellers to latch onto a household brand and increase their sales.
Walmart's Meteoric Rise
Amazon is one of the biggest brands in the world. They don't show any signs of easing up. According to studies, Amazon will continue to grow, with over 15% growth in revenue forecast. Although this is huge, it is actually a slowdown in growth. In 2020, the company's sales rose by over 44%.
The company that seems to be taking its growth into a turbocharged phase is Walmart, with revenue forecast to grow by over 20% in 2021.
This doesn't tell the whole story, either. These figures take into account the whole of the company and their sales both in-person and online. This 20% growth is offset by a decrease in sales in stores, as people opt to shop from the comfort and safety of their own home instead of taking their chances.
Perhaps the most telling statistic (and sign that Walmart is ready to form a real rivalry for Amazon's market share) is the growth in eCommerce for Q1 of 2021. eCommerce sales were up an incredible 74% on the same period the previous year.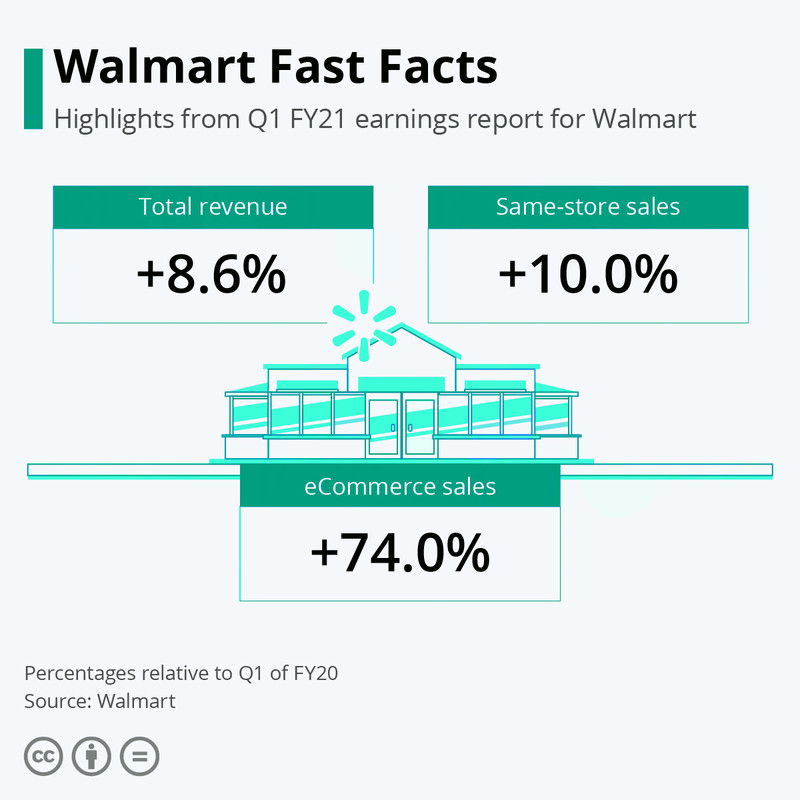 If we look into market share, the figures show just how dominant Amazon is, with around 40% of the eCommerce market belonging to Bezos and his empire. Walmart comes in second place, but it is not a close second. The company has around a 7% market share. Below that, former giants like eBay now only boast a 3-4% share.
With that incredible 74% growth figure, it could only be a matter of time before Amazon has a real rival. Sellers are latching on, and recent reports suggest that 5,000 sellers a month are signing up to partner with Walmart. The company has four times the number of third-party sellers that they could boast in 2019.
Nobody could say that the Amazon empire is collapsing, but the statistics are promising for Walmart, especially when you consider the fact that they are not mutually exclusive. A seller can easily get their products on both platforms.
What's Driving Walmart's Growth?
This growth is not just down to a pandemic. A quick look into the brand's strategy shows some of the factors going into the boom they are currently experiencing.
Walmart Welcomes Non-US Sellers For The First Time
Many factors seem to be driving this growth, and the COVID-19 pandemic has undeniably played a huge part, but Walmart is adjusting policy to boost their sales and product range.
In March 2021, the brand subtly removed the restriction that prevented foreign sellers from listing products on their marketplace, opening up the market to non-US sellers for the very first time. This is something that Amazon has offered for many years. Forbes reports that " vendors will be screened by Walmart's global trust and safety team to prevent the listing of items that are not safe or ethical."
At first glance, this could seem like a small change. Surely the majority of US sellers are US companies? Well, the opposite seems to be true. The same Forbes article explains that 75 percent of new sellers on Amazon are Chinese vendors. It stands to reason that Walmart will experience Chinese sellers signing up at a high rate, quickly expanding the range of products and choice people can buy, and potentially driving down the cost of products in their marketplace.
Walmart Has Focused on Takeovers and Investment
This growth has been in the works for some years. The eCommerce side of the business is estimated to have lost $2 billion in 2019, not because of being poorly run, but because of huge investment.
​​Walmart bought out a range of eCommerce businesses such as Jet.com in 2016 for $3 billion, Bonobos in 2017 for $310 million, and ModCloth in 2017 for an estimated $75 million. These significant investments allowed Walmart to incorporate new products, and bring new customers by absorbing some of the competition.
Many of the acquisitions were a case of playing the long game. While some saw the purchase of Jet.com as a huge failure, according to The Motley Fool, Walmart got exactly what they wanted; a team that could lead them to huge growth. In spite of discontinuing Jet.com, founder Marc Lore now runs Walmart's own e-commerce division. Having overseen the growth of Jet to a place where they could sell for $3 billion, he is now overseeing similar growth at Walmart.
As well as investing in acquiring companies, Walmart has also grown its business to the point where it can offer world-beating eCommerce. The company invested in pickup services, expedited shipping, a seamless website and app, and more technology that could allow them to rival the biggest eCommerce site in the world. These decisions appear to be paying off.
Walmart Offers One-Stop Shopping
This isn't a new concept. The age of the department store was built around peoples' desire to get all they needed from one place. Sears used to be the most successful store in the world for this precise reason.
Online shopping is no different. Why spend the time inputting card details and arranging delivery from 10 different websites when you can go to one trusted brand in the form of Amazon or Walmart and get everything you need.
When Amazon became successful selling books and media, they cleverly set out to create this one-stop shopping experience by adding groceries and other items to their marketplace. Undeniably, Walmart has done a similar thing by taking their existing grocery business, and turning it into a place to buy just about everything you could possibly need.
Is it Worth Selling on Walmart?
Walmart still only has around 20% of the market share of Amazon. That's a massive difference. So, is it even worth selling on Walmart?
The fact that the two are not mutually exclusive (you can list products on both) and the enormous growth that Walmart's online shopping is experiencing makes it a no-brainer.
Even if you have a successful brand selling on Amazon, and you know you can only really expect 20% of this success selling on Walmart, there is still the potential to make enormous profits, and as Walmart plays catch-up, you can put yourself in prime position should the brand experience a further growth spurt in the coming years.
Reasons that are drawing sellers to Walmart include:
The fact that there is less competition than Amazon has, even with the growth experienced in recent years.
The fact that there is not a fee to list products on Walmart, you just pay a referral fee on items sold.
The trust that Walmart already has, allowing sellers to latch onto this household name and offer their products on a site people know they can trust.
Analytics. Walmart offers sellers an excellent set of analytics tools, so you can dive into your numbers, see what is working, and inform your marketing strategy by breaking down the figures from existing sales.
Fast shipping and fulfillment. Customers have come to expect this, largely because of Amazon's exceptional warehousing solutions. Selling with Walmart allows you to tap into a similar delivery system.
Conclusion – Is Walmart Really Catching Up?
Amazon sits on top of a high perch, and there aren't really any signs of it being knocked off any time soon. However, that doesn't mean that other companies can't experience rapid growth. Walmart is the standout contender to rival Amazon right now, and the incredible figures regarding the growth in their eCommerce activities means that sellers can't afford to ignore the platform.
As an Amazon seller, expanding to other platforms is really not a difficult decision to make. There is no exclusivity clause on either Walmart or Amazon, so you are able to sell your products on both. In the 1900s, the biggest brands would want to be stocked at all department stores. Now, the biggest brands will try to compete on both Amazon and Walmart.