How to Find a Family Dollar Near Me
Family Dollar is a variety discount store chain with branches all over the US, with over 8,000 locations, it is one of the most popular chains of its type.
Coming from humble beginnings, the chain has grown an incredible amount in recent years. Family Dollar was founded in the 1950s by Leon Levine, an entrepreneur who was just 21 at the time. The very first of the stores was in Charlotte, North Carolina, but it quickly became a chain, adding stores in Georgia and Virginia, and by the end of the 1960s there were 50 stores in Charlotte.
The chain's growth was exponential. In 2020 the company's revenue exceeded $11billion.
In 2014, the company was bought by Dollar Tree, whose goal was to combine their two brands into one shopping experience, with a "wow factor".
What Family Dollar Sells
Family Dollar is known for being a variety store, with huge sales across a number of different categories. This has turned it into a "one-stop-shop" for many people, allowing you to pick up a number of essentials.
The chart below shows their growth in sales, with a big jump in 2021. You will also see how Family Dollar has made big moves in selling clothing, seasonal goods, electronics, and products for the home as well as consumables.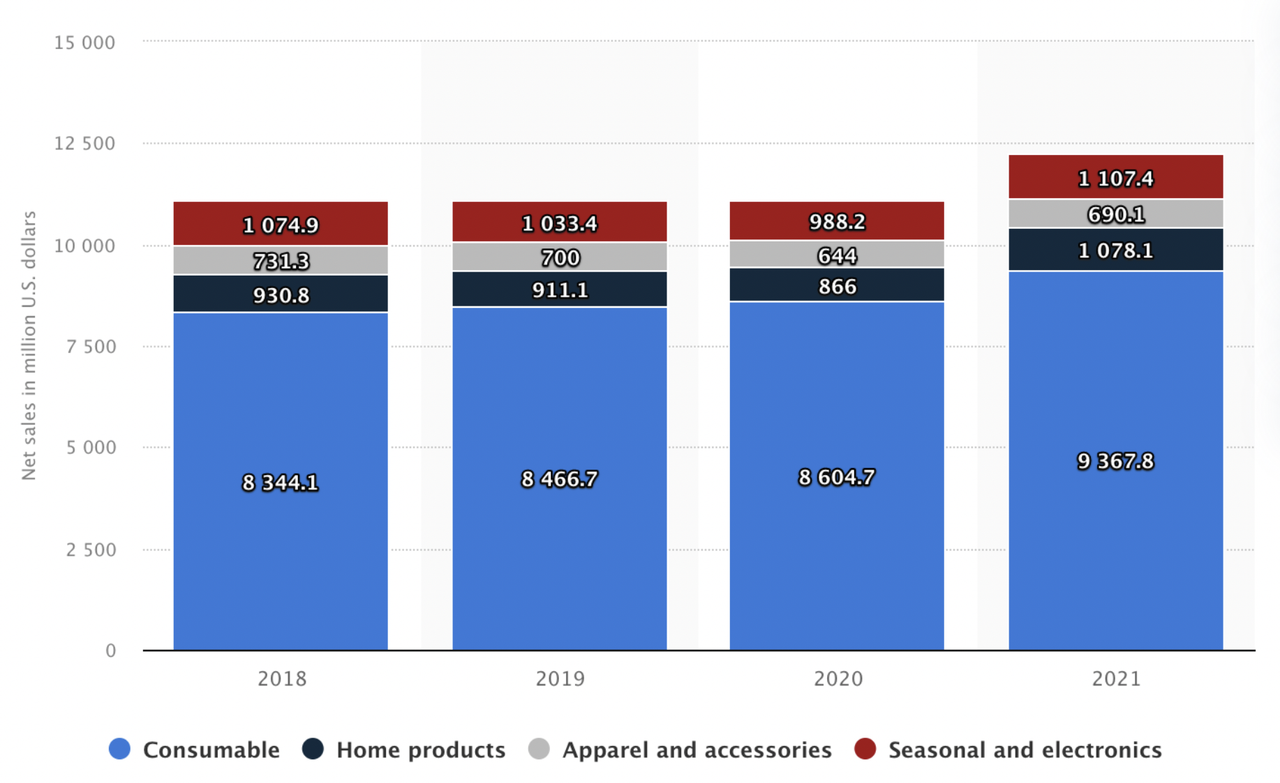 Source: www.Statista.com
You can buy everything from candy to wireless speakers and even cell phones within the store. It truly is a variety of experiences.
You can see many of the items that the brand carries by visiting their website, but due to regional variations, you may have to head into a store to find the prices. Family Dollar is renowned for offering great prices on many different items.
How to Find a Family Dollar Near Me
It's fair to say that Family Dollar is a huge chain, but there are some areas in the US where it is harder to find one of these stores, and there are states where there are currently no Family Dollars. There is at least one store in all states other than Alaska, Hawaii, Oregon and Washington.
Check out the graph below which plots the current stores on a map, and you'll definitely see some patterns.
In broad terms, the further northeast you go, the more likely it is that you will find a lot of Family Dollar stores.
This owes to the fact that the store was founded in Charlotte. Many of the roots of the chain can still be seen in its location.
In 2015, when the company was purchased by Dollar Tree, the headquarters moved from Matthews, a suburb of Charlotte, NC, to Chesapeake, a suburb of Norfolk, Virginia. The Virginia HQ is still a great location to serve stores up and down the east coast of America.
In central and western areas, there are still plenty of stores dotted around. Family Dollar is also growing all the time. It could be that a branch pops up in a convenient location.
To find out where the closest branch to you currently is, you can head to the brand's Store Locator page. This allows you to search by state or city, but also by ZIP code. It will bring up a number of stores nearby and show your exact distance.
Let's say you live in Kernersville in the state that started it all, North Carolina. Your nearest store is likely to be:
119 Greensboro Rd,
High Point, NC 27260-3469
The website also provides you with much more information including opening hours, and what amenities and facilities are at the store, such as whether there are alcoholic beverages, refrigerated food, and whether the store stocks tobacco.
The convenient store locator will also give you a map of the local stores, so if there is a store that is easier for you to get to, for instance, if it is on your way back from work, you can easily check the details.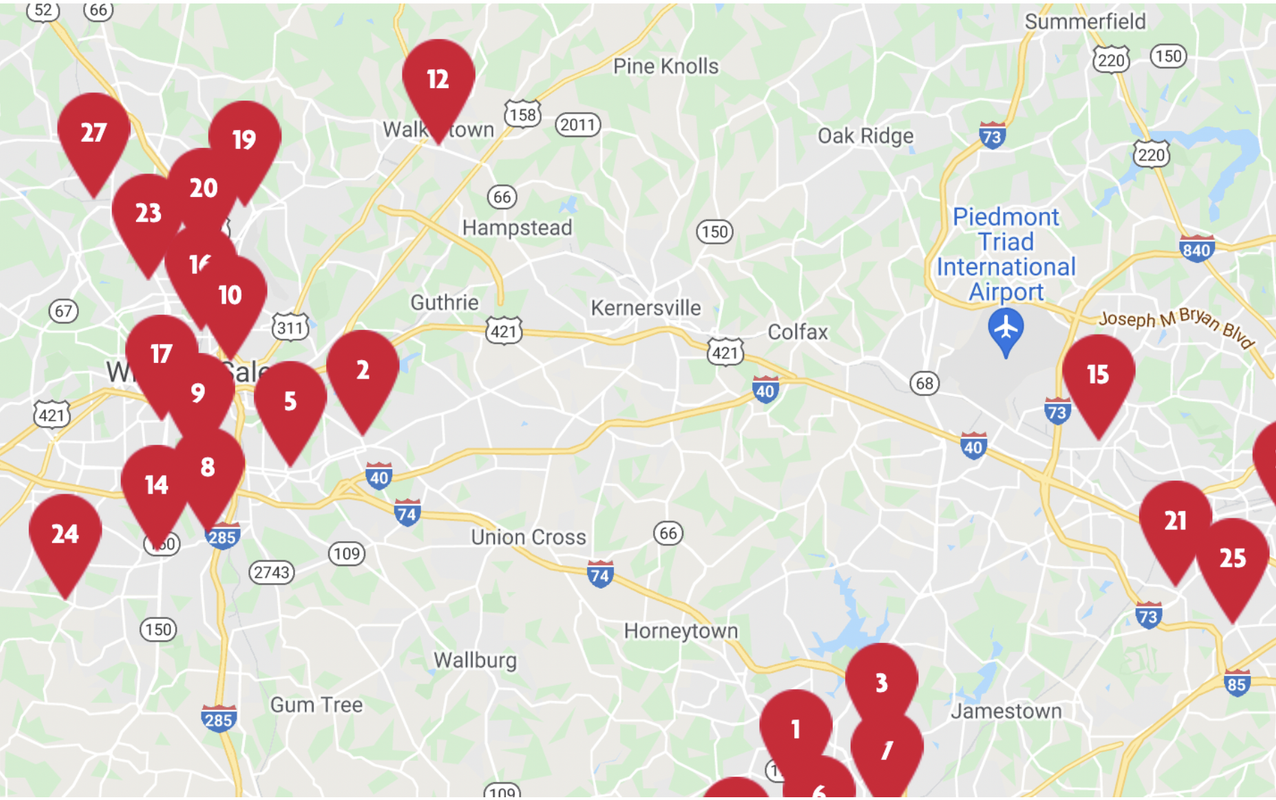 The above is the graph bought up when you search for Kernersville. Notice how there are actually many of the very earliest Family Dollar stores in the local area.
Not every search is going to bring you back so many options. By searching in NC, you're definitely in this chain's territory, with plenty of choices of stores. A search in Nevada will bring back just a few options.
Does Family Dollar Offer Delivery?
Yes and no. You can't go on Family Dollar's site and order something to ship to your home like you would be able to on Amazon. They don't carry a full range of items that you can get delivered.
However, Family Dollar recently started to work with Instacart to give customers an option for delivery.
This lets customers order online or via app to get a selection of household goods delivered, in some places as quickly as one hour from when they place their order. This is being rolled out after a successful pilot of 275 different stores. These orders don't offer the full range of items. For instance, if you want to buy a cell phone you will need to go into a store to see the price and make your purchase.
Is Family Dollar a Dollar Store?
It's easy to assume that with the name "dollar" in its name, the store will be full of items that are a dollar to buy. This isn't the case. Just like Dollar Tree and even Dollar general, the store actually offers items at a variety of prices. The "Dollar" in the name simply suggests value.
The low prices ensure that you can find items that are less than $1 if you want to, but not all items are stuck within this price range (that's understandable, they do stock a lot of electronics).
Summary
Find your local store by using the Family Dollar "Locate a Store" page and entering your ZIP Code or local city. If you're based anywhere in the east then it is likely that you will have lots of options nearby.
Enjoy deals up to100% Off on Rebaid.com! Receive rebates in 3 days!