A seasonal assortment of the world's hottest toy and a few of not-so-mainstream retailers!
Whether you're looking to buy yourself a rare Baby Yoda Squishmallow, or you're looking for a Cat Squishmallow for a loved one, you have come to the right place. This is one of the most comprehensive Squishmallow guides on the internet!
What Is a Squishmallow? The Newest Toy Craze
But what is a Squishmallow? According to Sophie Stoyer in a HerCampus article, "Squishmallows are the softest and squishiest stuffed animals ever. If you haven't actually felt them for yourself, you can't even imagine what they feel like."
Aside from being squishable, cuddly, and soft, these figures are highly collectible. People all over the world jump at the opportunity to purchase new releases and rare versions. And most retailers sell out, as soon as they receive stock. While they can be purchased at Costco, Amazon, Target, and Claires, the products typically sell out in a matter of hours.
This massive popularity is resulting in many smaller retailers carrying the products. It has also created a huge resale market for these highly coveted toys.
Fueled by Tik Toks high engagement and made famous by Social Media stars like Charli D'Amelio and Lexia Hayden, Squishmallows are all the rage. To date, there have been two billion-plus TikTok video views on Squishmallows-related hashtags, including more than 1.1 billion views on #squishmallows alone, according to a company spokesperson.
Squishmallows arrived on the market in 2017 introduced by Kellytoy in California.
Since 2017 over 80 Million Squishmallows around the world have been sold!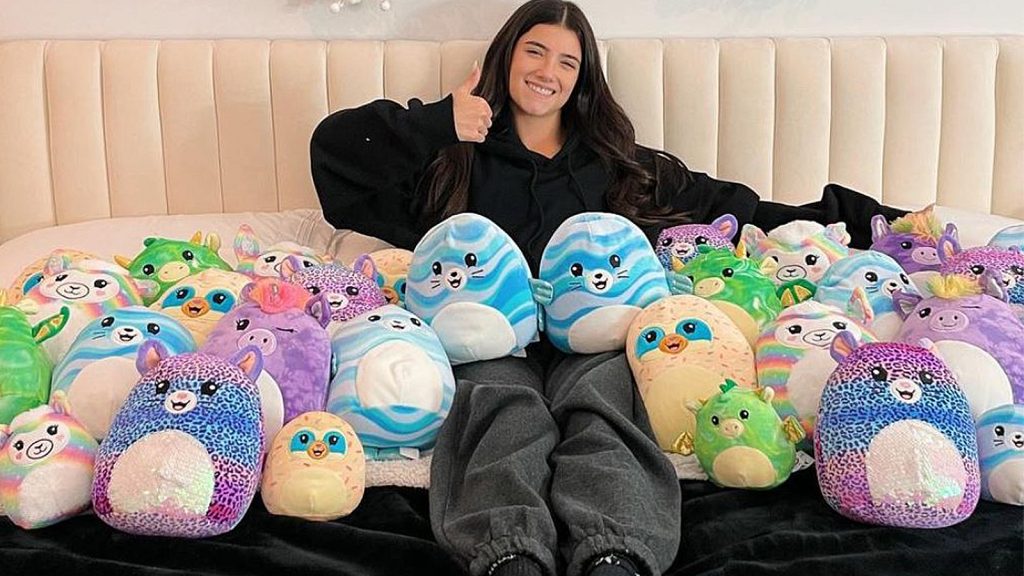 Chali D'Amelio the #1 most popular Tik Tok Star, with her huge Squishmallow collection.
The Squishmallow craze is very similar to the Beanie Babies craze of the '90s. But, with the added value of the squishy pillow functionality, Squishmallows offer slightly more substance to their fandom.
The company does collaborations with other popular brands, like Hello Kitty, and they are constantly releasing new special edition versions. Resulting in the Squishmallow phenomenon staying very relevant to its core audience.

Halloween Squishmallows-
The highly coveted Halloween Squishmallows are not only adorable but super rare. The Jack The Black Cat Squishmallow is the most limited Squishmallow ever created with only 500 ever made. If you are looking for other Halloween Squishmallow versions, check out Amazon, Walmart, or Owl and Goose Gifts.
The 2021 Release of Halloween Squishmallows has just started popping up in stores and Squishmallow enthusiasts seem to be very excited. If you are in close proximity to a Walmart, Target, Learning Express, or Claires you should be able to snag one of these limited edition holiday Squishmallows. Otherwise, the internet is a great place to look.
Rare Halloween Squishmallows Including Frankenstein Squishmallow, Milo The Mummy Squishmallow, Paige The Pumpkin Squishmallow, and Autumn the Black Cat Squishmallow.

Christmas Squishmallows
Another rarity in the Squishmallow world is the collection of Christmas Squishmallows. With some of the highest resale values out of the seasonal Squishmallow, these Christmas Squishmallow Tree and Santa-shaped toys are hard to get your hands on. Other figures on the rare squishmallow list include Gingerbread Squishmallows, Reindeer Squishmallows, and Snowman Squishmallows. While these toys are available with a markup on plenty of reselling sites, if you want to buy them new you should check out your local Target or Learning Express ASAP. Christmas Squishmallows are released in September!
A rare Christmas Squishmallow Collection including a Snowman Squishmallow, Christmas Tree Squishmallow, Penguin Squishmallow, and Santa Squishmallow.
Easter Squishmallows
Hard to find Easter Squishmallows are available in a variety of characters. Easter Eggs, Chicks, and Rabbit Squishmallows are available on plenty of sites like Amazon and seasonally at Claire's. If you're looking for a particular Easter Squishmallow, now is a great time to buy. The closer we get to easter, the harder the Squishmallows will be to find. So don't procrastinate, shop now!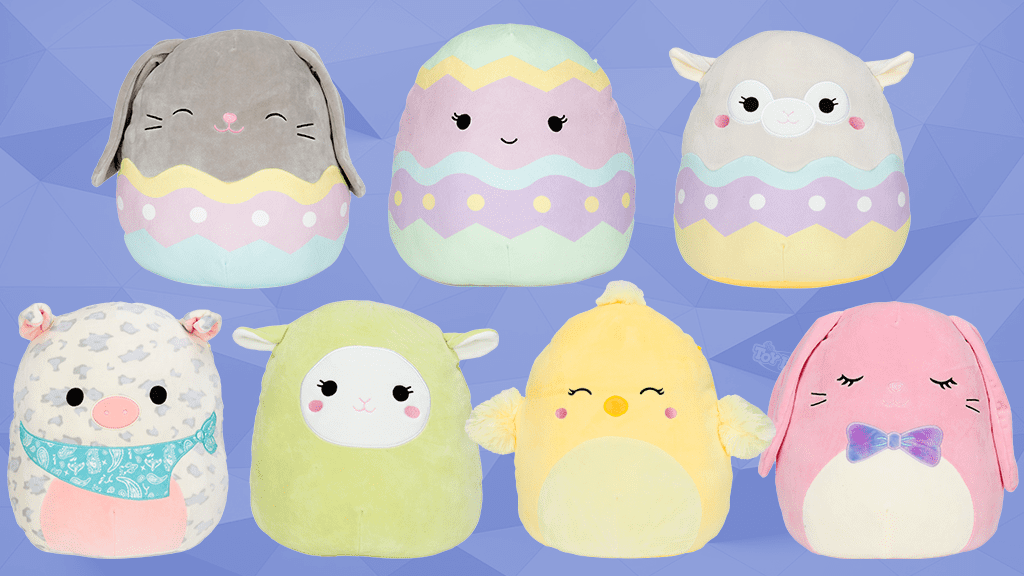 A rare Easter Squishmallow Collection including Lamb Squishmallow, Bunny Squishmallow, Chick Squishmallo and Easter Egg Squishmallow.
Owl and Goose Gifts, A Trusted Family-Owned Site
If you're looking for an assortment of Squishmallows outside of the Costco Squishmallow inventory check out Owl and Goose Gifts.
A popular site for exclusive Squishmallows, Owl and Goose Gifts seems to have a great selection of products, but are they legit? Info on Owl and Goose Gifts reputation - plus other great places to buy gifts and toys found here!
Who Started Owl and Goose Gifts?
A small family shop based out of the Midwest, Owl and Goose Gifts was started by a mother named Megan and her daughters. After growing up loving toys and raising her children to do the same, Megan was no stranger to the significance of a stuffed friend. In her own words a stuffed animal "isn't just a toy. It is your best buddy. The kind of pal that went on all sorts of adventures with you… real or make believe."
It is from this heartwarming story that Owl and Goose Gifts was born. Now a leading site for Squishmallows, Pop Fidget Toys, Pusheens and Squishables, Owl and Goose Gifts has a massive inventory of cuddly toys.
Where to Buy Baby Yoda Squishmallow-
The Baby Yoda Squishmallow is another collector favorite. Baby Yoda is a super cute addition to any Squishmallow collection and can be found at your local Costco. The Costco Squishmallow selection is surprisingly large but is not available online. You have to visit Costco in person for rare Squishmallow access. If you are not near a Costco, Amazon is another great place to buy the Baby Yoda Squishmallow, however, you will have to pay a hefty mark-up fee in most cases.
A rare Baby Yoda Squishmallow.
Where to Find a Dinosaur Squishmallow
Unlike the hard-to-find Baby Yoda Squishmallow, there are plenty of dinosaur Squishamllows to go around. There is a huge selection of Dinosaur Squishmallows, all with their own unique names and storylines. If you are in the market for a Dinosaur Squishmallow they come in all shapes and sizes and make a great gift for young children. They can also easily be purchased from Amazon, without markup, and generally with Prime two-day shipping.
A pink dinosaur squishmallow, available on Amazon.
Connor Cow The Squishmallow Cow
A great starter Squishmallow is Connor the Cow. This Squishmallow Cow is slightly harder to find than the Dinosaur Squishmallow collection but easier to find than the Baby Yoda Squishmallows. You can likely find the Squishmallow Cow at the Squishtoys website, but be wary when shopping on other sites. There are a ton of Squishmallow Cow knock-offs on Amazon and other online retailers so be sure to avoid those when searching. Connor the Cow, like other Squishmallows comes in an assortment of sizes.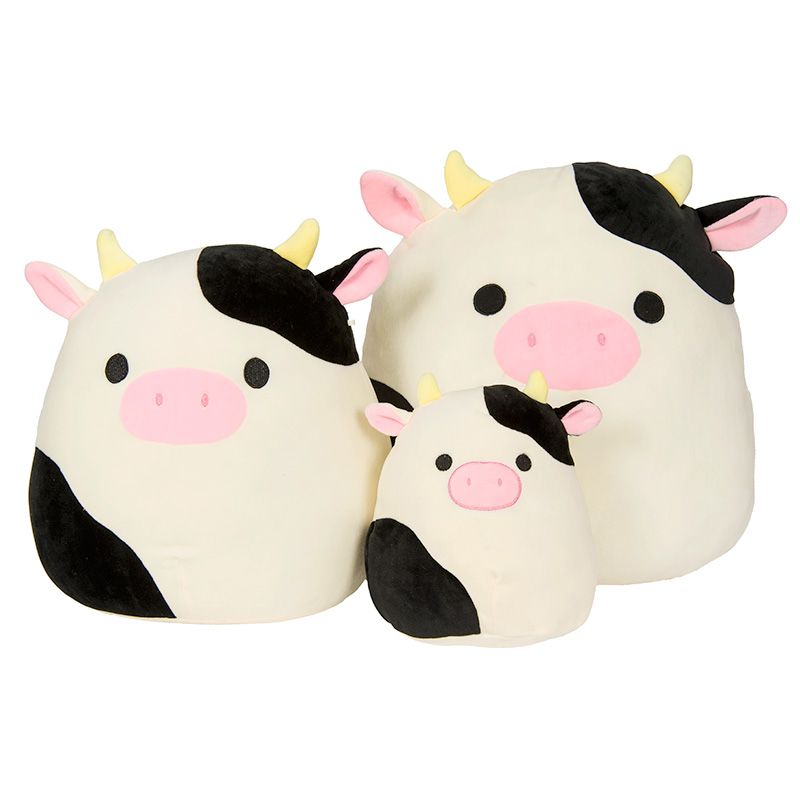 Rare Cow Squishmallow Assortment.

Dragon Squishmallows
While these Dragon Squishmallows don't breathe fire, they sure are cute! Available in the Walgreens Squishmallow section, and also on the Walmart website. The Squishmallow Dragon collection comes in an assortment of colors and sizes. A little dragon toy is a perfect gift for any kid or even adult!
Dragon Squishmallows, in all shapes and sizes available at Walmart.
To Sum Things Up:
The Squishmallow craze isn't going anywhere anytime soon, and if you're looking for the rare ones, you may want to get ready to pay a premium. But if it's the not-so-hard-to-find Squishmallows you are after, smaller sites like Owl and Goose Gifts and Squishtoys have emerged to meet the market needs!