According to a recent Parents magazine survey, there is a 50-50 chance your child will be a picky eater.
Getting The Daily Five Servings of Fruits and Veggies
Children, in general, are more sensitive to taste, smell, and texture. Resulting in about half of kids going through a phase where they only like foods with specific colors, flavors, and consistencies. This process is natural and is all part of a child's journey in developing their own preferences. However, it does not make meal time any easier for parents who are trying to get their kids to eat anything, let alone their recommended 5 daily servings of fruits and vegetables. With each serving equating to around 1 cup of food, making sure your child is getting all of their servings can feel like boiling the ocean. But making sure your children are getting their 5 servings of fruits and vegetables each day seemingly makes all the difference.
Higher fruit and vegetable consumption in children is associated with decreased risk of chronic disease in adults.
The benefits of childhood fruit and vegetable consumption seem to extend through the lifespan. Somehow many children still do not get an adequate amount of fruit and vegetables. Luckily there are plenty of tips and tricks out there to keep your kids eating their fruits and vegetables. Here are some ways to turn your picky eaters into pleased eaters.

Peanut Butter Is Not Just For Celery Sticks
Many of us have been ingrained into believing that celery is the only acceptable vegetable to eat peanut butter with. These beliefs have done everyone a disservice. Peanut butter and other kinds of nut butter taste scrumptious on a myriad of vegetables!
Cucumbers, bell peppers, and carrots all taste great with peanut butter. The creamy, salty butter excellently complements the crunchy fresh vegetables and creates a perfect pairing.
These snacks can be prepared like celery logs or served with an option to dip. When going the dipping route, make sure to cut the vegetables very thin. Extra particular eaters may want their cucumbers peeled. If you want to add a little more flavor, you can mix the peanut butter with some honey, or cinnamon, or even salt. A tip for the adult palette: mix a dime-sized amount of sriracha or other spice of your choice with a few tablespoons of peanut butter for your own snacking pleasure.
While enjoying a tasty treat, your little ones are also getting a wide array of essential vitamins and minerals. Nut butters are also a nutritionally significant addition to a raw veggie. They bring a healthy dose of fats to the meal. Most vitamins can not be absorbed without the aid of some healthy fats, and peanut butter and other nut butters provide those fats. So you can ensure that all of the vitamins and minerals from the vegetables are being absorbed.
The nutritional value of this combination is high. Nut butters are packed with nutrients- with one serving boasting 8 grams of protein, 12% of your daily intake of magnesium, and 10% of your daily intake of Vitamin B-6. Cucumbers, bell peppers, and carrots are all excellent sources of potassium, fiber, vitamin C, vitamin K, folate, and iron.
Veggie Nuggets
What better way to get your kids to eat their vegetables than to disguise them as chicken nuggets? Veggie nuggets look like chicken nuggets. They dip like chicken nuggets. They taste similar to chicken nuggets. But they are packed with veggies. You will need shredded carrots or cabbage, steamed broccoli, garlic, eggs, cheese, 1 cup of breadcrumbs, salt, and a food processor. Mix all of these ingredients with a tablespoon of water, roll them into little nugget shapes and fry them up in a pan. Serve these to your kids warm with ketchup or honey mustard and see if they can tell the difference.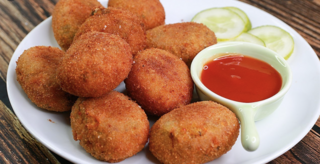 Mac and Peas
Looking to Add Some Veggies into Mac and Cheese? Try Mac and Peas. Adding cooked peas to macaroni and cheese is a great way to get some extra vegetables in. Your child will love the addition of the sweet vegetable and the fun texture. And you can rest easy knowing they are getting a whole serving of vegetables. Peas are an extremely underrated vegetable. Many protein powders are made with peas. One cup of peas has 8 grams of protein, the total daily recommended amount of vitamin C, B vitamins, Magnesium, Iron, and Fiber.
Teriyaki Chicken Bowls
Kids love anything sweet, so this recipe is just a sweet and tangy take on a classic meal. The whole dinner can also be made in only two pans, so clean-up is a breeze. Cut broccoli, carrots, and bell pepper up into small pieces. The smaller they are, the better they will be at soaking up the flavors of the teriyaki sauce. Then put the ingredients onto a tin foil-lined baking tray. Add peas over the top, and put a teriyaki marinated chicken breast onto the side of the pan—Cook at 400 for 20 mins. When you take out the tray, the veggies will have caramelized, and the chicken will be golden brown. Serve this meal with rice or cauliflower rice, and you will have a sweet and salty meal that the whole family will love. Teriyaki sauce works as an excellent vehicle for most vegetables.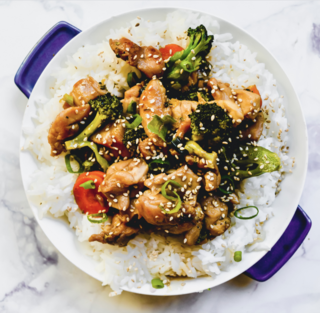 Banana Dippers
Very similar to the concept of french toast sticks, we have banana pancake dippers. These can be made in dollar pancake sizes or long skinny dipper sizes. To make dollar pancakes, you slice bananas into rounds. For the longer dippers, you can cut your bananas into halves. You then dip the banana slices into pancake batter and fry them with butter or oil in a pan, rotating until golden brown on each side. This creates pancake-coated banana dippers that are soft and warm on the inside and crispy on the outside. Serve these pancakes with peanut butter, syrup, honey, your favorite jelly, or chocolate sauce. They are also convenient finger foods that travel well. They can even be packed in a lunch box as a healthy snack. For more pancake recipes, check out our
10 Hot Takes on Hot Cakes Article
Cherry Almond Smoothie
Moving on from the ever-popular pancake, we have the sweet cherry almond smoothie. Similar in flavor to the famed Ben & Jerry's Ice Cream flavor Cherry Garcia, this smoothie is a crowd-pleaser. The sweet cherry almond smoothie has a robust and pleasant taste. Making it a great dessert treat and a perfect place to sneak in some extra spinach and cauliflower. Just blend a cup of frozen cherries, with a handful of raw spinach, a half cup of cauliflower, 1 cup of milk or milk substitute, a teaspoon of almond extract, a teaspoon of vanilla extract, and some sweetener to taste. Serve right away with some chocolate chips sprinkled on top. You can even freeze this smoothie into creamy popsicle sticks. Cherries have more antioxidants than most fruits, boasting over 5000 antioxidants per one-cup serving. Add in the nutritional value from the spinach and cauliflower, and you are getting one healthy smoothie and almost 3 servings of fruits and veggies.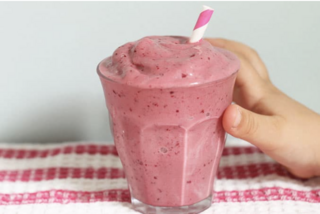 Mango, Carrot and Spinach Smoothie
Smoothies are a great way to sneak veggies in. But the classic strawberry and banana smoothie tends to be slightly too mild to conceal much more than spinach. Fortunately, the frozen food aisle has tangy frozen mango year-round to help us out. Mango has a strong enough flavor to disguise multiple vegetables at a time. Blend 1 cup of mango with 1 cup of raw spinach, a large cut-up carrot (or a handful of baby carrots), add some sweetener. Add a splash of orange, apple, or lemon juice, then a cup of water, and you have yourself a nutrient-dense smoothie. The color of this smoothie is not the most appetizing, so it is best to give it to your little ones in a colored cup with a straw. But it is not about looks. It's what's inside that matters! This smoothie is bursting with vitamins and minerals and covers nearly 3 servings of your child's recommended daily intake of vegetables.
Spinach and Cauliflower Pasta
Everyone loves pasta with red sauce, but pasta with red sauce and cut-up spinach and cauliflower mixed in is a sure way to get your kids to eat more veggies. Spinach and cut-up pre-cooked cauliflower can seamlessly integrate into pasta dishes. Cauliflower is extra absorbent and takes over the flavor of anything you cook it with, especially when riced or cut into small pieces. When spinach is cooked into the sauce, it practically melts away. Your child will not realize there is anything new in their pasta. The nutritional addition of these vegetables is no small feat. One cup of spinach accounts for 5 grams of protein, a full daily recommended serving of potassium and magnesium, and half the daily recommended serving of iron. One cup of riced cauliflower has B Vitamins, Magnesium, Iron, and your daily recommended serving of Vitamin C.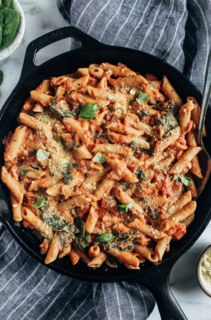 Hidden-Veggie Quiche
Assuming your kids like eggs, quiche is a sneaky place to hide some veggies. Part pie, part omelet, the quiche is well received by most children. The possibilities with the quiche are endless. You can put a wide array of vegetables into one, depending on how small you can cut up your vegetables. A food processor is an excellent tool to use for concealing veggies into a quiche. You will need a pie crust, 5 large eggs, bacon or ham, half and half, and 1 cup of swiss cheese, mushrooms, bell peppers, onions, broccoli, spinach, and a 9-inch pie plate. Using a food processor, pulse your cooked mushrooms, bell peppers, onions, broccoli, and raw spinach to a pulp. Then mix the pulp with a 1/2 cup of half and half, 5 eggs, the cooked meat, and half of the cheese. Pour the mixture into the pie crust. Sprinkle with cheese. Bake at 375F for 20-30 mins or until the pie has set and has started browning on the top. Each slice of this quiche will have 1-2 servings of vegetables and can be served for breakfast, lunch, or dinner!