Dollar Tree Hours, Find Out When Your Local Store is Open
There are plenty of reasons why Dollar Tree is so popular. It's a hit for people looking for bargain purchases due to the fact that most products are just $1.
In this guide, we're exploring Dollar Tree hours of opening so you know when you can hit your local store and pick up some affordable consumables and other items for your home.
Dollar Tree is an American chain with over 15,000 branches across the states. It's on the Fortune 500 because it is such a huge business, and there are plenty of stores you can visit, especially in the states where Dollar Tree is particularly popular.
Dollar Tree opening hours tend to follow one of a few patterns. They're either open 9am - 9pm, 8am - 9pm, or 9am - 8pm.
There are some exceptions to these timings, so you can't just assume that these are the times the store will be open. If you plan to go at 4 in the afternoon, you'll probably be safe to assume that the store is open, but in the morning or in the evening it is worth checking with the individual store.
How to Find Out When Your Local Store is Open
To be 100% accurate, and make sure you don't have the frustration of arriving at the store, only for them to be closed, it's important that you find out the specific opening hours for your local store.
The "store locator" page on their website is the only way to be certain of the times for your local store.
You can search for a local store by ZIP code or using your address, which will bring you a result on the map.
Check out this result near Tulsa, which has an 8 AM to 9 PM opening.

There's a lot of information on each of the results. You can see the full address, get directions from your own address, and even check the email and phone number. For instance, you might want to call to see if an item is in stock.
There's also a "ship to this store" button which you can use to get items specifically shipped for collection in-store.
The "amenities" section also tells you whether there is refrigerated or frozen food, greetings cards, and other store amenities.
When it comes to holiday opening hours, we recommend calling ahead so that you know exactly what the opening hours are, and don't get caught out.
Remember that there are over 15,000 Dollar Tree stores so keeping on top of the opening hours for all of them is a big challenge. Check if you're going to a different store than usual.
A Brief History of Dollar Tree
Dollar Tree has grown to be a national chain, with an interesting history.
In 1986, entrepreneurs Doug Perry, Macon Brock, and Ray Compton started a chain store called Only $1.00, with five stores across Virginia, Georgia, and Tennessee. They already owned a toy store chain, which they sold quickly after growing their new dollar stores.
The name change came in the 90s, when they also sold part equity to a firm called SKM partner.
The company went public on the stock exchange in 1995, and the growth would continue as they acquired 98-Cent Clearance Centers in California and Only $One stores based in New York.
New branches and takeovers continued, and in 2021, Dollar Tree is a household name in the US. "Consolidated net sales for full-year fiscal 2021 are expected to range from $26.19 billion to $26.44 billion" - Dollar Tree Info.
You can see the incredible growth of the number of stores in the chain, including a very significant takeover, in the graph below: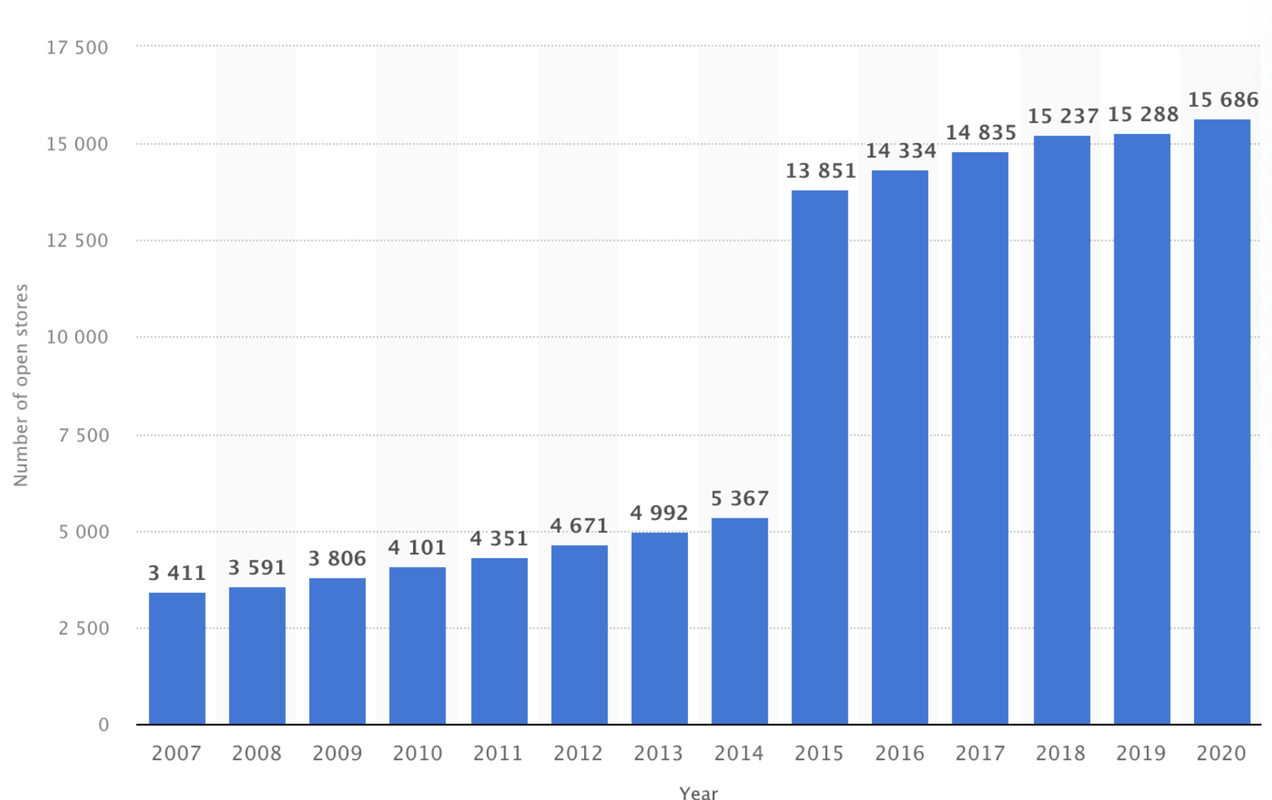 Source: Statista.com
Dollar Tree also now owns Family Dollar, a store that varies more in its product prices, and has a further 8,000 branches across the States.
Is Everything in Dollar Tree One Dollar?
Historically, the chain was made up of dollar stores, but this is changing all the time. A dollar doesn't buy you as much anymore.
Dollar Tree recently announced that, due to inflation, they were having to increase some of their prices to $1.50 per item.
On top of that, many Dollar Tree stores also offer a variety of products at a higher price range, but these still tend to be excellent value.
Dollar Tree stores are a little more complex than those "everything for a buck" stores you come across.
What Can I Buy in Dollar Tree?
Dollar Tree has become known for offering a huge level of choice to customers. As well as consumables such as food and drink, you can buy cleaning supplies, stationery and craft items, automotive accessories, electronics, even books and pet goods.
Most stores also have cold and frozen sections so you can buy a lot of different food and drinks, you can even stock up on fresh milk and frozen meals.
Though you can't buy many of the items online, a lot of the items they carry are listed on the website so you can look through their stock and get a feel for what sort of products are available.
Is Dollar Tree Open on Sundays?
Yes, Dollar Tree stores tend to be open on Sundays, though some operate more limited hours on this day of the week. Check your local Dollar Tree info page for details.
Is Dollar Tree Open On Christmas Day?
In 2020, all Dollar Tree locations were closed, and we expect this to be the same for 2021. Historically, some of the stores did remain open, but this seems to be a thing of the past as the company rewards its employees with a well-earned break.
Conclusion
Most Dollar Tree stores are open for 12 hours a day, at least, but the only way to be confident of opening hours is to check your local Dollar Tree store for their opening hours. Fortunately, all the information you could need is on the store locator section of their website.
Enjoy deals up to100% Off on Rebaid.com! Receive rebates in 3 days!