Amazon Live A-List Influencers: Who Are They And Where to Find Them
The Amazon Live Influencer program is fairly new to both Amazon sellers and creators. But it is already making waves in the Influencer Marketing Industry.
For anyone struggling to see the benefit of Influencer Marketing, the Industry is on track to reach $16.4B in revenue by the end of 2022.
According to a study done by The Digital Marketing Institute: 49% of consumers depend on Influencer recommendations.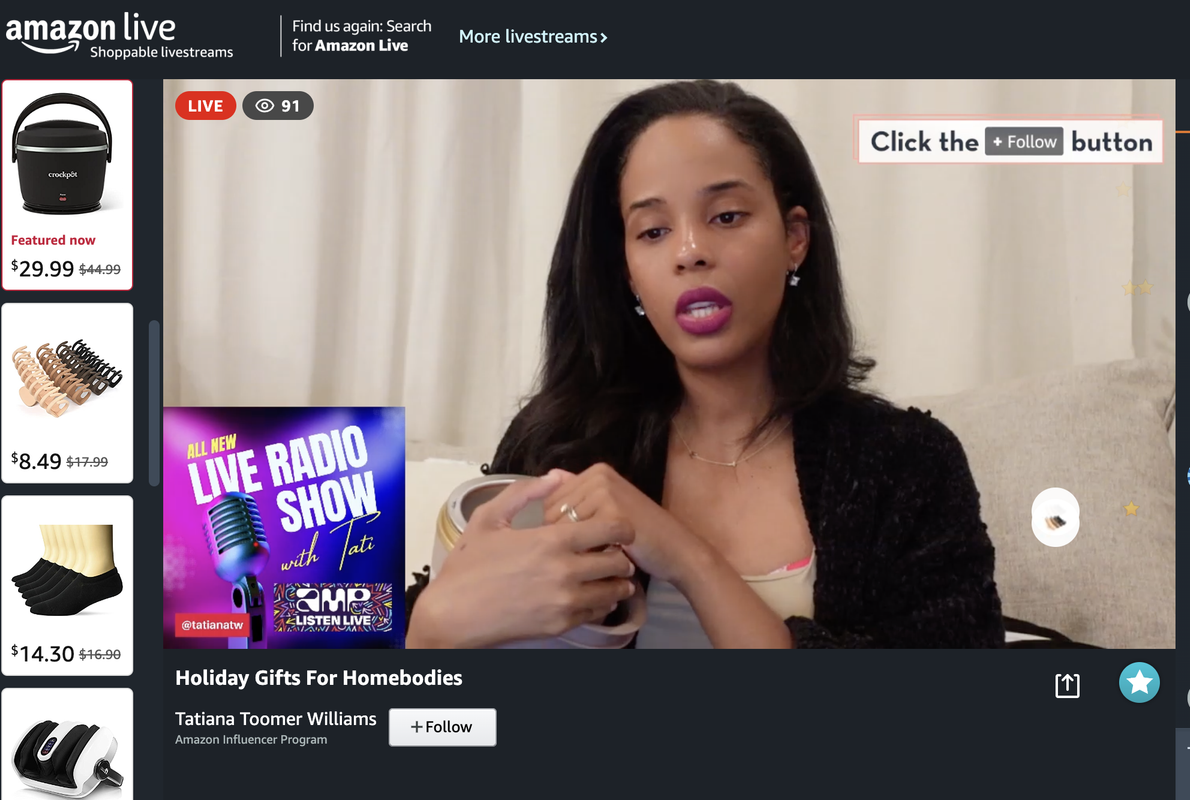 Not only do 49% of consumers depend on influencer recommendations, but 40% have also purchased something after seeing it on Twitter, YouTube or Instagram. If consumers feel confident about an influencer's recommendation, they are more likely to make a purchase.
Study after study has proven Influencer marketing effectiveness. Research has shown influencer marketing yields 11x the ROI than marketing using banner ads. On average, businesses and brands earn $5.20 for every dollar they spend on influencer marketing.

So which social media platform is the best for Amazon Sellers?
That would be Amazon Live.
Amazon Live has positioned itself as one of the most effective influencer marketing methods for generating sales. The QVC meets Instagram Livestreamed shopping model draws existing customer bases of all ages to the site. The user-friendly formatting makes the purchase process as simple as 1,2 click.
Amazon has added shoppable videos that show up on the product page. The videos act as personalized recommendations on a product listing and show up on the influencers' storefronts, driving new traffic. The program has turned out to be well-received by online consumers. Even small streamers garner around 20,000 views per stream, with high shipped sales numbers.
So Who are Amazon A-Listers?
The A-List title is what Amazon uses to differentiate the highest traffic creators from the smaller creators. The Amazon algorithm and homepage also favor the A-List creators, meaning their content is viewed more, clicked on more, and in turn, sells more products. Many A-List creators also do weekly or monthly streams.
So How Do You Find the A-Listers?
Unfortunately, Amazon does not offer an A-Lister directory. Which makes finding talent a tedious task. We have compiled a List of A-List creators, plus some other creators quickly approaching A-List status.
Grand Millenial Home Deals
Jill Crowe's style is Grandmillennial and traditional with a modern, affordable twist. She is a military spouse who renovates her homes with each move. Jill loves to highlight affordable products that add value to a home. Followers also look to her for mom hacks, toys, and fashion. She has a Master's in Marketing from West Virginia University and triple majored at Penn State University.
Ashley Iaconetti
Ashley Iaconetti is an American Television Personality. She has been featured on The Bachelor, Bachelor in Paradise, and The Bachelor Winter Games. She is a mom, content creator, and wife. Her audience consists of hip and trendy shoppers looking for product recommendations.
April & Justin Moore
April & Justin Moore are a husband and wife influencer duo. They make extremely high-quality content for their large audience. The creators specialize in home essentials and kids' goods.
Free to Family
Free to Family is an Amazon Live A-List influencer with a channel dedicated to food, shopping, and pet care. A digital diary created by a mom, counselor, writer, artist & author striving for a more intentional life. Watch for simple home & family tips, money-saving ideas, and food!
Julianna Claire
Julianna is a mom, wife, and full-time content creator. Her audience looks to her for Amazon recommendations, and she has built a following of over 1 Million on Tik Tok! She elevates your everyday purchases through affordable finds. She provides advice on Budget-friendly home organization, DIYs, fashion, and beauty.
Tools.Electro.DIY.
Tools.Electro.DIY. is an A-Lister who focuses on electronics, tools, and household items. His videos are full product reviews with thorough demonstrations. The videos are viewed predominantly by a male audience.
Elite Demonstrations
Elite Demonstrations specializes in tool and appliance demonstrations. His audience is looking for the best gadgets, tools, furniture, and household items. He specializes in Amazon Live Streams and frequently interacts with his audience during his streams by answering questions and doing custom demos.
Liz Fenwick
Liz Fenwick is a bargain-shopping lifestyle influencer who specializes in DIY videos. Her audience is interested in shopping, decorating, and Do-It-Yourself projects. Liz is also an Amazon associate.