Businesses have created incentives to motivate action and boost productivity for ages. Amazon is no different.
Most sellers don't realize that Amazon can help you grow your business through their incentive programs. So, if you don't know about Amazon Incentives yet, we're about to show you how you can reap the benefits of these programs.
Read on to learn more!
Amazon Gift Cards
As mentioned before, Amazon incentives were created in an effort to motivate sellers and shoppers alike. And, in this case, the retail giant knows that customer rewards and employee motivation are crucial to keeping sellers afloat. That's why they created Amazon Gift Cards.
Gift cards have traditionally been the go-to option for rewarding employees. And they're also an excellent way to say thank you to customers.
Amazon gift cards are ideal, hassle-free rewards to distribute among customers or employees. The best part is that the gift cards come with no inactivity fees, nor balance expiration dates.
This makes Amazon gift cards great tools to boost employee loyalty and increase customer retention.
What makes them such an effective reward is the fact that they can be used in many ways. For example, sellers can purchase bulks of the following gift card options:
Physical Gift Card – Traditional gift card for in-person delivery. Ideal to recognize an employee or give away to customers. Delivery time is 1 to 3 days. Plus, you can request a custom design with your own logo.
Email Gift Cards – Delivered within 1 day, email cards are quick and easy to redeem. You can send to a personal inbox as incentives or participation rewards.
Gift Card Claim Codes – Amazon sends you a batch of codes via .CSV file. They are easy to distribute by email or text message.
SwiftClaim – These can be deposited into Amazon accounts. The value is added into the recipients account balance for immediate use.
Amazon recommends gift card purchases for businesses that spend more than $5,000 on incentives per year. The main requisites to use them are:
● Your first purchase must be above $1,000.
● All gift card options must be purchased in bulk, with a credit card or bank transfer.
● Each card can hold values from $1 to $2,000.
With Amazon gift cards, you don't have to spend money on fancy merchandise; just give away something that is useful!
Image: Amazon Moments
If you prefer to tailor your rewards, rather than relying on gift cards, then check out Amazon Moments.
Amazon Moments make it easier for businesses to engage with customers. It creates a series of "moments" in which customers can complete an action and receive a reward.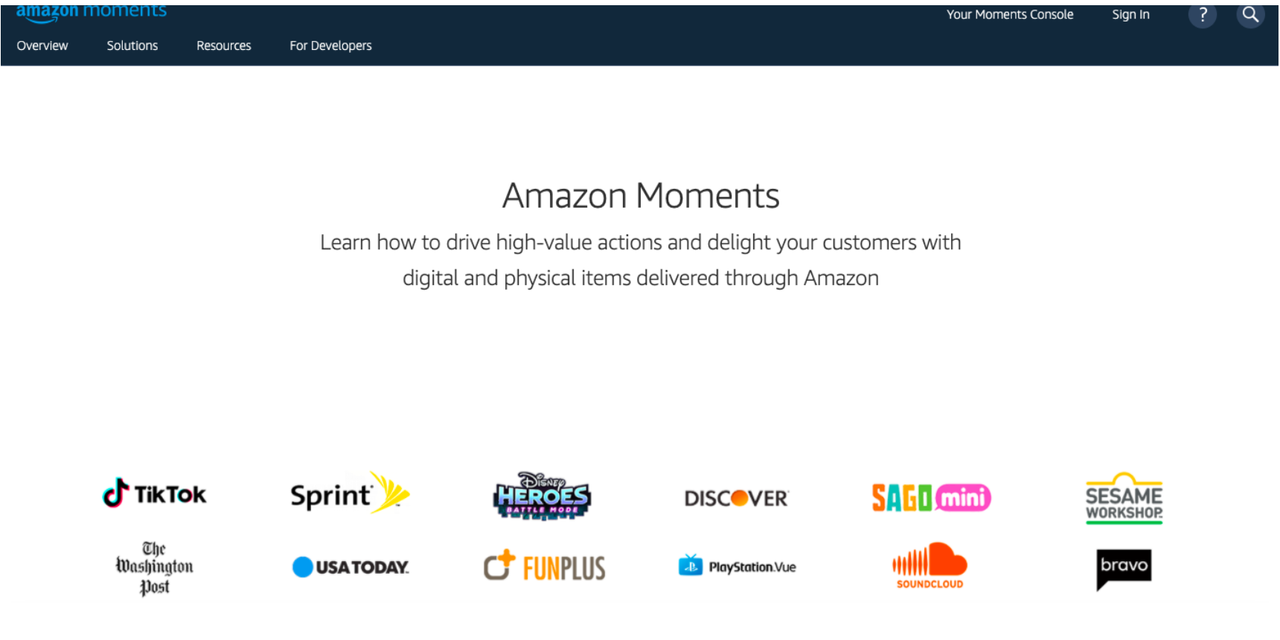 This program is about action and engagement. You can pick an action for users to complete. For example, completing a survey or replying to specific questions.
If shoppers complete the activity, they get a link to claim their reward. As a seller, you just need to determine which rewards your clients will get and set the budget for your campaign.
Amazon then uses your brand image to create a rewards landing page.
The marketplace just takes a small fee when actions are completed. In exchange, they take care of delivering the rewards.
Moments is designed to help brands turn customers into advocates. This is a nice way of encouraging users to share more reviews for products, which is important for Amazon.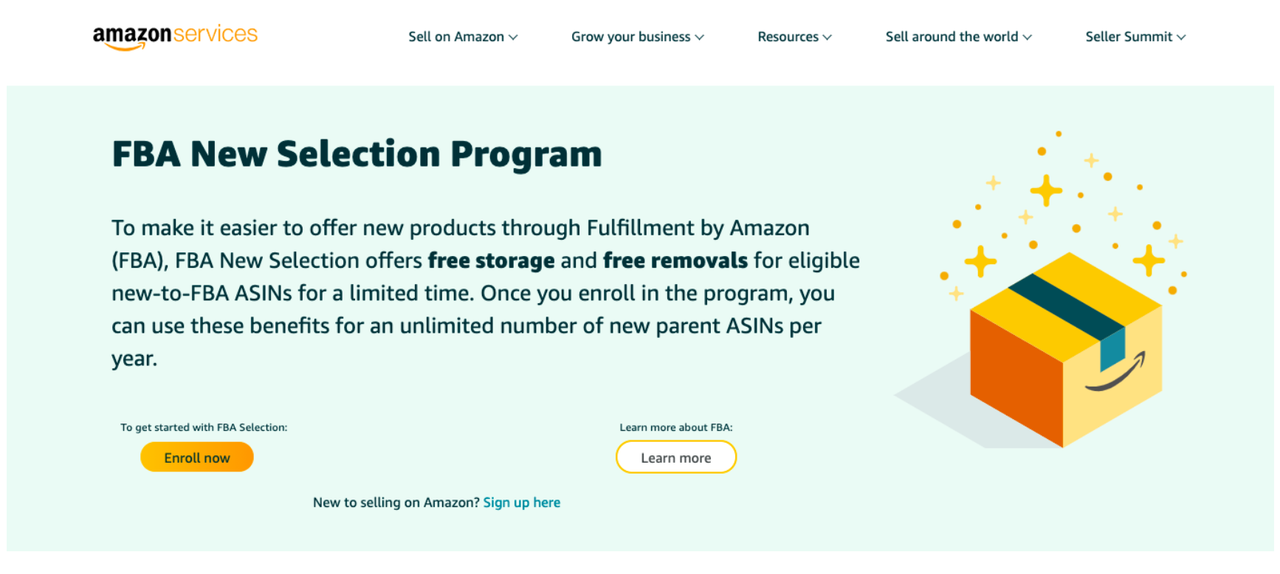 The FBA New Selection Program gives new sellers access to Amazon's FBA network. Brands can test out new products without adding up costs.
The program offers free removals and storage for eligible new-to-FBA ASINs, for a limited period. Here is a quick detail overview for you:
● Free monthly storage for the first 50 standard-size units, or 30 oversize units.
● The free waiver spans for 90 days after the first product arrives at an Amazon fulfillment center.
● Shoes and apparel units get free 120-day storage for the first 100 units received at the warehouse.
● Free removals for the units stored for 180 days after the first inventor-received date.
● Free waivers apply to the first 100 new-to-FBA ASINs, but the limit is reset every January 1st.
● New FBA sellers can qualify for as much as $200 in sponsored ad clicks.
● Brands also get a $100 rebate on shipping.
Amazon's FBA New Selection is a low-risk program for new sellers. There are, however, specific criteria sellers you have to meet.
First off, you must have a Professional Seller account, and an Inventory Performance Index (IPI) above 400. If your IPI falls below, Amazon will remove you from the program.
You can still be eligible if you are new to FBA and do not have an IPI score yet. Just ensure that you are eligible for the program when your first ASIN is received at an Amazon warehouse.
Eligibility gets reviewed on a quarterly basis. That means you will remain eligible from January 1 to April 1, even if your IPI score is below 400 during this period.
If your score falls, you can increase your score to be eligible in the next quarter. Furthermore, your ASINs also have to meet the following criteria:
● Only submit standard-size and oversize items.
● The parent ASINs must be new to the FBA program.
● Used items and media categories are not eligible. These include books, films, music, software and videogames.
● Free return processing is exclusive to shoes and apparel.
Parent Listings
It's important to note that New Selection considers one parent ASIN, along with all its child ASINs, as one unit.
Parent listing refers to the general name of a product. It is an umbrella term to cover items that have different variations.
Child listings are products that feature specific variations. For example, smartphone cases come in different sizes and colors.
So, the seller can advertise one main smartphone case line, which would be the parent ASIN. However, each variation within that category would be a child ASIN.
The power of rebates has been proven in many studies. They are incentives retailers use to encourage sales from customers. They are similar to coupons since they reduce the cost of a purchase.
Rebates are a type of discount. The difference is that buyers get the incentive after the sale. The customer cashes in its coupon after the sale. This will make the rebate effective.
Amazon's online rebates work the same way, and you can use them as part of your marketing strategy. The retail titan uses rebates to give the best prices.
To get an Amazon online rebate, you need your Amazon Packing Slip. Then, you should follow the next steps:
Find and select the offer you are interested in buying. You can find in the product features a rebate in www.rebateshq.com/amazon-rebates.

Complete the order on Amazon before the purchase deadline.

Then, go back to the rebates website and complete the redeem form before the postmark deadline expires. The form will include the transaction data from your Amazon Packing Slip.

After subtitling it, return in 24 hours to check the rebate's status.
Sellers can offer rebates through Amazon to boost sales from customers.
Make sure you state the rebate qualifications for shoppers, so there is no confusion with the transaction.
For example, always display the price to be paid for an item, and the net price after a rebate is claimed.
Final Thoughts
Amazon offers a lot of great services. But the programs we just discussed are a few lesser-known incentives that eCommerce sellers can use to their benefit.
You are an Amazon seller, looking to make your business grow in the marketplace. Why not take advantage of all the available resources that make selling on Amazon highly rewarding?
So, it's high time you reap the benefits of Amazon's incentives to motivate loyalty and boost productivity. That's what makes them one of the most effective tools for selling more products on Amazon.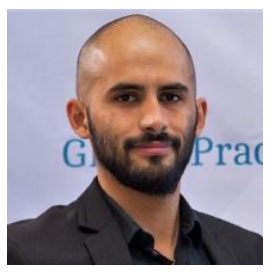 About the author, Esteban is an SEO copywriter at AMZ Advisers, with several years' experience in digital marketing and e-commerce. Esteban and the AMZ Advisers team have been able to achieve incredible growth on the Amazon platform for their clients by optimizing and managing their accounts and creating in-depth content marketing strategies.