10 Best Chrome Extensions- For Saving Money & Time
Work Smarter, Not Harder, with Chrome.
Did you know you can buy a toothbrush from Walmart's online store and get Bitcoin back upon purchase? Yup- There is a Chrome Extension for that.
Enjoy the full capabilities of the internet with these lifehacker best chrome extensions. Get money back on purchases you are already making, correct your grammar, organize your travel details, and save your reading list for future you, all in one place. Here are the top ten Chrome extensions for the busy person.
10 Best Chrome Extensions- For Saving Money & Time
1. Honey- A Promo Code DataBase.
Honey Google Chrome App

With Honey, you don't have to search for promo codes or clip coupons. Honey gives its users access to a discount code database spanning the United States, Canada, Australia, and the UK. When you add a product to your cart, Honey scans through every promo code and discount in their database, ensuring you are getting the best possible price. Aside from running discount codes for you, Honey also gives you info on the code's previous usage. If a code worked 15 minutes ago in the United States at the site you're on, Honey let's you know. Honey works on virtually every online retailer and can save you money on everyday purchases.
2. Ghostery- Reclaim Your Anonymity.

Ghostery is for the user who values their privacy. Ghostery is an advanced privacy extension that allows its users to block ads, stop trackers, speed up websites, and much more. With Ghostery, users have access to javascript "tags" and "trackers," which allow for the collection of user browsing habits through HTTP Cookies. Ghostery also has advanced tracking blockers that can be used to fight against canvas fingerprinting. The removal of these trackers stops the appearance of creepy targeted ads and enhances the overall user browsing quality by boosting internet speed. When your browser isn't busy tracking, it can focus on simply loading. Keep your information private and your browsers fast with Ghostery.
Invisible Hand- Find The Best Available Price.

Invisible Hand chrome add on is a chrome extension that searches the web as you search to make sure you are getting the best price on each and every item you are buying. If you are looking at the product page of an online retailer, Invisible Hand will be looking through the entire world wide web to ensure that the product is not listed cheaper on any other website. If Invisible Hand finds a lower price on an identical product, it will alert you. There are some faults to this system- as it does not generally account for varying shipping costs. But the peace of mind that comes with seeing all available prices and knowing you are getting the best one is worth it.
Invisible Hand Chrome App

3. Rakuten- Get Cash Back From Daily Purchases.

Rakuten offers cashback from most online retailers. Many products ranging from grocery store olive oil to Sephora makeup are available for cashback through Rakuten extension for chrome. With Rakuten, you do not need to add something to your cart to see the deals. If you are on a product page or a website that Rakuten has a cashback offer, it will alert you. Get cashback from Goop, Bose, VRBO, Sephora, Grubhub, ProFlowers, and Shutterfly. Even stores like Kroegers, Jewel Osco, Pavilions, Walmart, CVS, and Omaha Steaks offer cashback deals. Rakuten has returns up to 15%, and for some sites, it gives users flat fees of $30 cashback. Once you have activated the cashback offer, Rakuten holds that cash in your Rakuten wallet until you are ready to cash out, either directly to your bank account or as a check.
Rakuten Extension for Chrome
4. Pocket- Great For the Avid, But Busy, Reader.

The Pocket Extension is for the user who consistently has 45 tabs open on their computer. If you are one of those people who sees an article, decides you want to read it but don't have time, Pocket is for you. Pocket, previously known as Read It Later, is an organized place to store all of the tabs you do not need to have open right now. "When you find something you want to view later, put it in Pocket." Pocket is a user-friendly way to keep all of your future reads in one place. The pocket app also gives its users different folders within the extension to further organize their content. Pocket features a "must-read" section. It also allows users to categorize their articles by length. Users can also favorite, archive, delete or tag any piece of content saved to their Pocket account. Once the content is in your Pocket, it emails it to you as a reminder to read on a schedule you set. This feature is very helpful for a user who has found a think piece at 9 AM as they have started their workday, who decides they want to read the article before bed. The user can add the article to their Pocket, schedule an email alert for the article to be mailed to them at 10:30 PM as they are in bed, and then read it when they want. Talk about efficiency.
Pocket Extension
5. Camelizer by CamelCamelCamel- Get Historical Price Info on Amazon Products.

Decide If Now Is A Good Time To Buy. Camelizer for Chrome makes sure you are getting the best price on amazon products. Camelizer filters through hundreds of product and pricing pages and histories. It offers its users historical price data in the form of graphs so that they can decide if they are purchasing at the best time. You can see price fluctuations and look for patterns. Camelizer helps its users make informed decisions about whether or not they are buying at the opportune moment. All of this info conveniently becomes available to users without having to leave the amazon tab. This extension comes in very handy for big-ticket items like appliances and power tools. Camelizer shows you if now really is the best time to buy.
Camelizer for Chrome
6. Last Pass- Store All Your Passwords in a Vault App.

The password manager. Last Pass is a vault extension that will generate long randomized passwords for you and then securely store them. It is an online safe place for insurance info, wifi passwords, membership info, and other sensitive information. It also lets its users share passwords through its platform so that they can avoid sending sensitive data in text or email. Lastpass extension for chrome will additionally alert you if any of your passwords have been compromised. Last Pass claims that it allows its users to put their passwords "on autopilot."
Lastpass Extension for Chrome
7. Evernote- All of Your "Sticky Notes" in One Place.

Evernote is a great way to stay organized and offers a place to store all of your miscellaneous desk sticky notes. The Evernote extension functions as a consolidated bulletin board on your computer and is accessible like a tab. By clicking on the Evernote icon a "workspace" type page will open up containing different widgets, folders, categories, and hashtagging options. It features a notepad and a drawing board for creatives. There is even a section for boarding passes and other travel info. Evernote also gives its users suggestions on how to organize notes so that everything is easily accessible. Evernote syncs to all of your devices so that the things you need are always with you.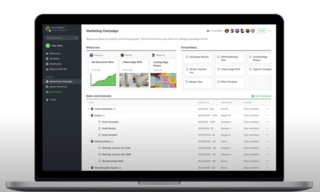 8. ScreenCastify - The Video Recorder For Chrome.

Helpful in a multitude of scenarios, ScreenCastify allows its users to make videos of their screens. Targeted towards classrooms for the ease of reference of recording online classes for playback, ScreenCastify extension for chrome is a big help for students and teachers with remote and blended learning. On average, "ScreenCastify saves teachers 24 minutes per day on tasks like grading, class prep, professional development, and admin work." But it is also a practical tool for business professionals. With most meetings still taking place on zoom, ScreenCastify is an excellent way to ensure you don't miss a thing. Rather than taking notes, you can be fully present knowing that ScreenCastify is recording everything so that you never have to miss a detail again.
ScreenCastify Extension for Chrome
9. Grammarly - A Personal Editor For Your Whole Computer.

Grammarly is a straightforward extension that corrects grammar, spelling, and even complex structural sentence errors. Grammarly has an algorithm that can identify issues in texts that typical editing programs cannot. Grammarly extension for chrome works over nearly every program you use on the web. It has the capabilities to edit your emails, your google docs, and your own personal notes. Grammarly users also have the option to aid the software by inputting specifics about the text, such as tone, reader level, formality level, and overall purpose of the content you are writing. Giving users an editing experience that is intelligently tailored to their needs. Grammarly is an excellent addition to Chrome for anyone who wants to ensure they are putting out clear, concise, and correct content.
Grammarly Extension for Chrome
10. Lolli - Get Paid in Bitcoin for Shopping

Build your cryptocurrency portfolio while ordering take-out with Lolli. The Lolli extension for Chrome partners with over 750 various stores and retailers to give its users up to 30% cashback in the form of bitcoin. At stores many shop at every day like Nike, Groupon, Priceline, eBay, Sephora, Sam's Club, Staples, Chewy, and Microsoft. Lolli is ideal for someone who wants to begin investing but doesn't know where to start- It is also great for someone who already has a cryptocurrency portfolio and wants to take advantage of what is basically free bitcoin. While these amounts are generally small, a few dollars here and there equating to tiny fractions of bitcoins- with the way BTC is rising, users could amass a small fortune in no time. Lolli believes "BTC is the future, so they make it easy to earn."
Lolli Extension for Chrome
These simple but realistic strategies of saving money are the first steps to success. Rebaid's mission is to connect shoppers looking to get great deals on exciting new products! Sign up for your account today!